Favorite Feature #456: Featuring Stuff
Ning's Tips and Tricks
One of the things I love the most on your own social network for anything on Ning is featuring.
We've made it incredibly easy for you to feature members and content on your network and feature homepages. This let's your members discover the things that you love while keeping things fresh and interesting across your network.
Here's an example from Network Creators of us featuring a few of the 14,000+ members of this network for people creating networks (how meta of us):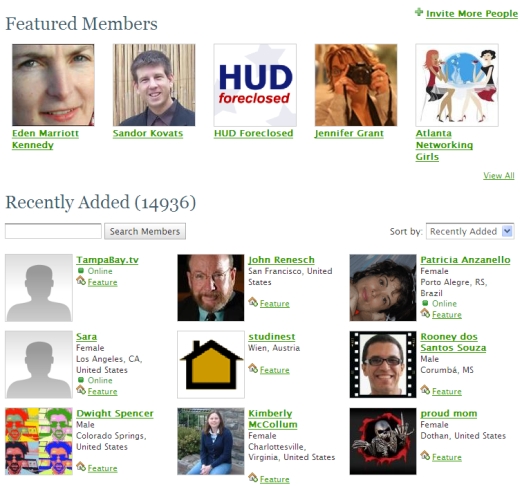 How do you take advantage of this on your network on Ning? Simple. Just click the "Feature" link you see under any of your members here on the members page and they will pop up to the top of the page. It's there by default and essentially "one-click" to bring the feature option to life.
Beyond members, you can also do this for Photos, Videos, Groups, Discussions, Events, etc. Imagine a few possible ways of using this:
1. Run a contest. Run a contest on your network and promote the winners in this featured section.
2. Use it as an excuse to make new friends. Feature a few of your members and send them private messages to let them know that you've featured them. It's a flattering way to get folks back to your network. Everyone loves to be loved.
3. Use it to keep things fresh and interesting. Choose the best content and interesting members and continually swap them in. This will not only keep your homepage fresh but provide a reason for folks to wait with anxious anticipation for what you're going to feature next on your network.
So, try it out and see what you think. We'd love your feedback and a comment on any of the great ways that you're using it right now on your network.