Finding the red carpet, via txtMovie Club
Ning Network Spotlight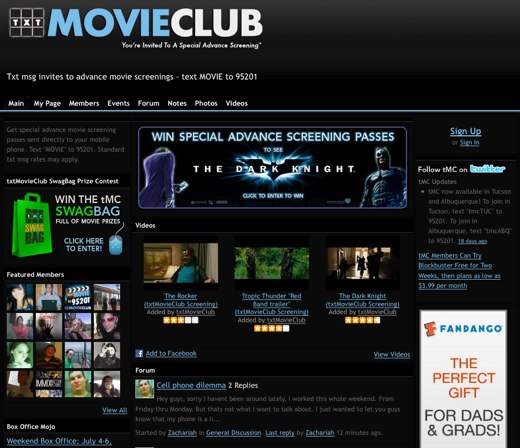 Stop being on the wrong side of the rope. If you want to attend the biggest movie premieres in your area, join Txt Movie Club and start getting the red carpet rolled out for you.
More than 800 members have signed up to get special access to screenings. Once they join, members are given access to and information about movie screenings in their area via text message. And, before and after the show, they gather on Txt Movie Club.
Naturally, the events section is one of the most popular parts of the network. There, members will find access to premieres for upcoming silver screen smashes like action-spoof Tropic Thunder, with Ben Stiller and Robery Downey Jr. If you're still in a comedic mood after seeing Thunder, be sure to check out James Franco and Seth Rogan's latest film premiere, Pineapple Express.
Even if you can't make it to a pre-screening, the txtMovieClub is still a great place for keeping up with the latest movie news. You can watch previews for upcoming films like Step Brothers and Tropic Thunder in the videos page. And in the forum, you can hear what members think about movies that won't get reviewed in the newspapers for another week.
One of the most popular features on the network is the weekly SwagBag contest. Members answer trivia questions to win a bag full of cool movie-related prizes. Think you can beat the other 850 members and claim the SwagBaf for yourself? Then join the txtMovieClub!