Finding your creative juice
Ning Network Spotlight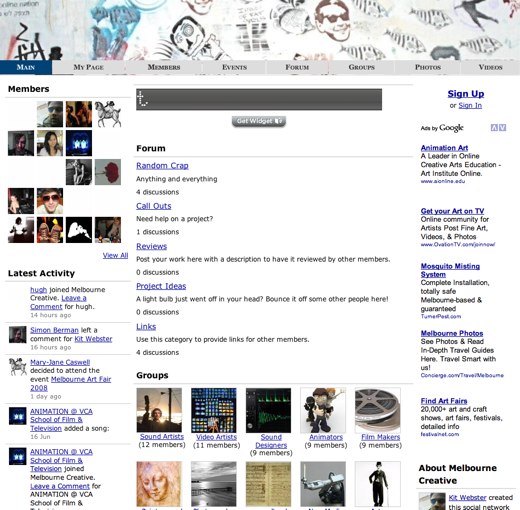 According to Network Creator Kit Webster, the Melbourne Creative Hub "was setup to give artists and creatives in Melbourne a place to talk, exchange ideas and collaborate on projects." Soon to celebrate its 100th member, the network has quickly become fertile territory for artists Down Under.
The forum is the venue for brainstorming. Here artists review each others' work and discuss potential project ideas and their implementation. Upcoming shows are listed under the events tab, providing artists with external sources for inspiration.
"Video Artists" is one of the most populated groups at the Melbourne Creative Hub. So it's not surprising that the network boasts a really impressive videos page, where members have uploaded some of their work. Check out the trippy "Morphic Paradox" from Kit. Or mellow out to some of the more meditative works from member Benk, like "Bench."
The network makes use of all kinds of media. Members inclined towards photography have filled up the photos page with their work, and sound artists like Richard Pilkington upload files into the music player on their personal pages. No matter where you go on the Melbourne Creative Hub, you're likely to encounter an eye-catching new project.