Food and farm in the Northeast
Ning Network Spotlight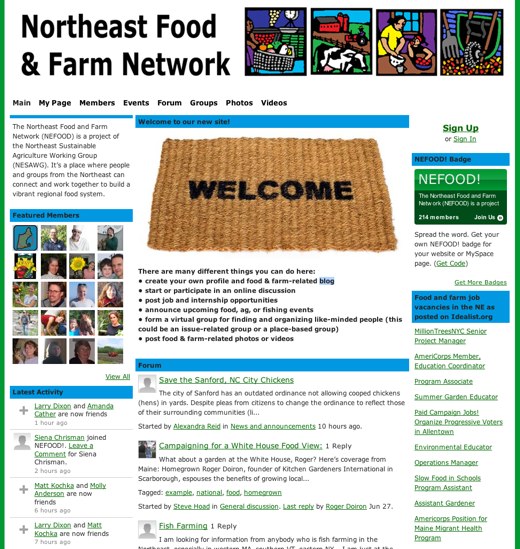 The Northeast Food and Farm Network is a project of the Northeast Sustainable Agriculture Working Group and provides a place for people and groups from the Northeast to connect and work together to build a vibrant regional food system.
If you're unsure about what you can do on NEFOOD, consider Network Creator Roger Doiron's many awesome suggestions!
create your own profile and food & farm-related blog
start or participate in an online discussion
post job and internship opportunities
announce upcoming food, ag, or fishing events
form a virtual group for finding and organizing like-minded people
post food & farm-related photos or video
Keep busy by attending local agricultural events such as Bridgton's Farmers' Market Festival or Glynwood Center's 6th Annual Harvest Awards. There are five events taking place this month alone and plenty more to come! Looking to break into the food and farm industry? Browse through the job vacancies posted on the main page.
At the very least, check out NEFOOD to meet some friends. With more than 200 members, you're sure to be in good company!