Georgian networking at ValdostaConnect
Ning Network Spotlight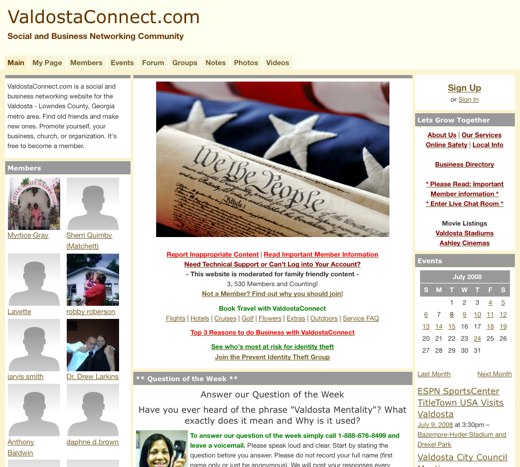 Valdosta, Ga. is a little city just north of Florida. This city grew up as an exchange city for Sea Island cotton, and has become an area with rich history and heritage. The inhabitants of the Valdosta metropolitan area now have a place to meet in cyberspace at ValdostaConnect.com.
This network is made for social and business networking. To that extent they have made this a safe and secure network to socialize on. They have detailed some Online Safety Guidelines to help protect their members privacy and personal information. In addition to this they have some Member Info that all members can benefit from.
Valdosta Connect is geared up for fun as well! On the home page they have two local movie listings for those interested in cinema. They also have a cool "Question of the Week" box on the homepage. This is for Valdostans to share information about their tight knit city.  They also have a "Local News and Information" box that lets you know about all the local happenings in Valdosta.
If you are curious about this quaint city, you should check out ValdostaConnect.com!