Get connected at CMConnect
Ning Network Spotlight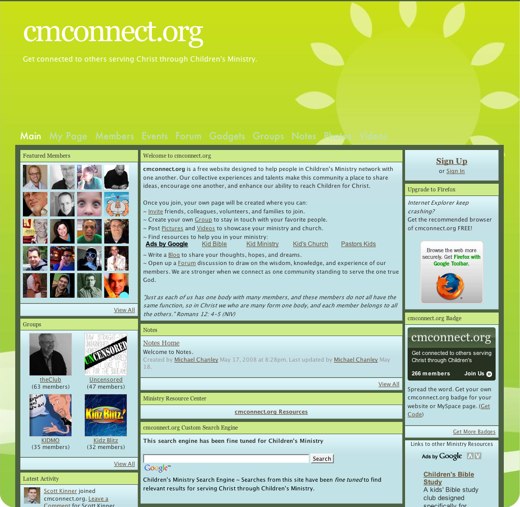 CMConnect is the premier place for online collaboration of those working for a noble cause through Children's Ministry. This warm welcoming network is a bustling hub for the lives of its members to come together.
The Network Creator has done a phenomenal job of guiding his members through the network. He gives you the low down on how to navigate with five things you need to know about using CMConnect. The main page is also home to an informative and warm welcome:
"cmconnect.org is a free Web site designed to help people in Children's Ministry network with one another. Our collective experiences and talents make this community a place to share ideas, encourage one another, and enhance our ability to reach Children for Christ."
The groups section is also a great part of this network for members to get a better grasp on different aspects of Children's Ministries. It provides a useful place to share resources that make Children's Ministries fun, and more effective. The videos page is also a great place where members share tools to help members teach/learn.
Children's Ministries is here to help bring their cause to the world. To understand their plight you'll have to check out CMConnect!