Get your greek on at Divine9Online
Ning Network Spotlight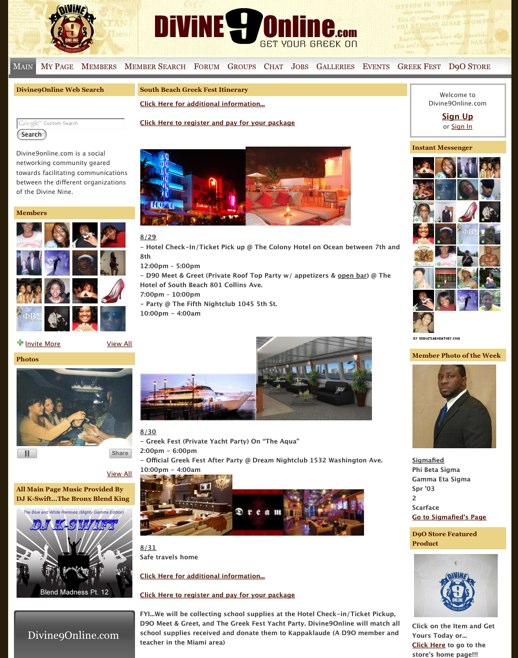 Divine9Online is a network geared towards facilitating communication between the black Greek organizations of the Divine Nine.
The Divine Nine is made up of four sororities and five fraternities: Kappa Alpha Psi Fraternity, Alpha Phi Alpha Fraternity, Omega Psi Phi Fraternity, Phi Beta Sigma Fraternity, Iota Phi Theta Fraternity, Alpha Kappa Alpha Sorority, Delta Sigma Theta Sorority, Zeta Phi Beta Sorority, Sigma Gamma Rho Sorority.
With nearly 7,000 members across the country, Divine9Online has certainly established itself as the hot spot for all the members of the Divine Nine! Recognizing its outstanding members, Divine9Online features a Notable Member (Morgan Freeman) and a Member Photo of the Week (Sigmafied's) on the main page.
Besides being deeply involved in community service efforts, leadership and scholarship, members know how to have a good time! The South Beach Greek Fest itinerary looks jam-packed with awesome events. If you're in the market for a job, reconnect with old friends and take advantage of the Jobs section Divine9Online offers. Talk it up on the active forum about anything and everything. If you prefer live interaction, use Divine9Online's chat feature!
Get your greek on at Divine9Online!