Getting personal with Barry Manilow
Ning Network Spotlight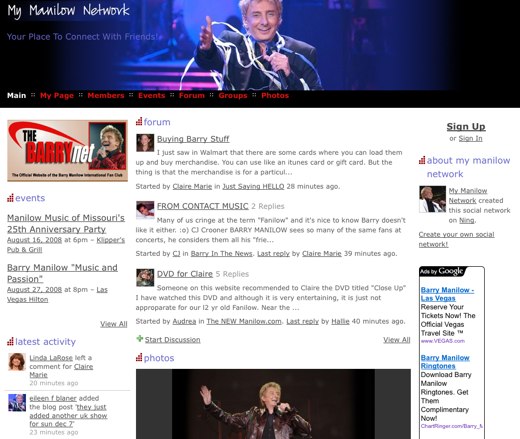 Her name was Lola, she was a showgirl… Oh! Sorry, these tunes are so catchy! Barry Manilow is the king of music that sticks with you and makes you sing. Now you can shout your lungs out at My Manilow Network!
Members gather here to share Barry merchandise, exchange stories about Barry's shows, talk about life as a Barry fan in general, etc. The events let members get together and pool their passion when going to a Barry show. You can also find information here about upcoming Barry shows, like the Music and Passion show in Vegas.
The groups section is chock full of groups celebrating different aspects of their Manilove. There is a group that celebrates Barry's younger years. Here you can listen to some songs that brought Barry to fame. There is also a great group that reflects that Barry calls his fans friends, called The Barry Friendilows.
All friendliows or potential friendilows have to check out this site. Barry Manilow has made music that has touched all of us. If you love basking in an artist who has stood the test of time, check out My Manilow Network!