Getting smart Again
Ning Network Spotlight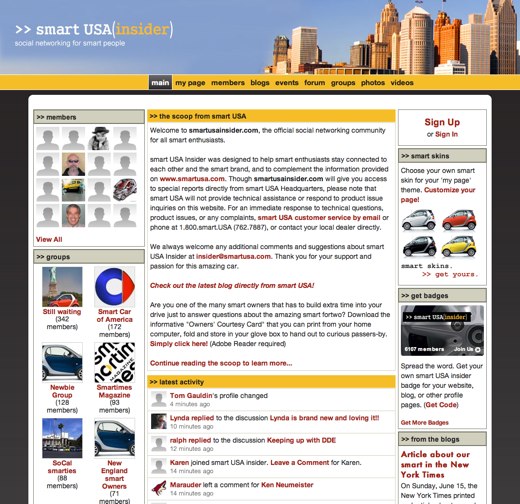 smart USA(insider) is the official social network for all Smart car enthusiasts.  As the Smart car gains popularity in America, enthusiasm does as well, and so does this network!  With more than 6,000 members, and many more every day, this network deserves another look.  We decided for this blog post that we'd talk to the network creator, Ross Karchner and Jessica Gamarra, the Marketing Specialist from smart USA.  Here's what they had to say:
Why did you decide to create your social network on Ning?
We created a social network for smart because the brand is so unique and has such passionate enthusiasts that it only makes sense to build a social network where this community can share their love of the car. We chose the Ning platform because we were impressed with the amount of access we could have to the codebase and the number of features built into the system for us from the start.
What is your favorite feature on the network?
The ability to post videos and photos directly from a cell phone is really great and was an unexpected find.
What is the biggest challenge you've had on the network?
One of the biggest challenges is simply keeping up with all the enthusiastic posts! The community was incredibly active from the start, with 2,500 members joining in the first 24 hours. They post constantly, and even in the testing phase, we needed more time than expected to keep up with the comments and suggestions. From a coding standpoint, many of the items we wanted to customize were only possible through editing the network's PHP code — and each line of code we add, edit or take away is a potential headache for later maintenance and upgrading.
Do you have any advice for other Network Creators?
Create as many networks as you need to test every possible scenario you can think of — there's no downside or cost in opening up a new network.
What is the most surprising aspect of being a Network Creator?
We didn't expect that simply watching people use the site (post forums, photos, groups, and events, etc.) would actually be so fun. It's more interesting than an aquarium!
What are your plans for the future of smart USA(insider)?
Our plans for the future of smart USA(insider) are to continue building a thriving community, leverage the upcoming Open Social integration to build out new gadgets on the site, and start promotion activities in the wider social Web in the next 2-3 months.