Getting with the Flow
Ning Network Spotlight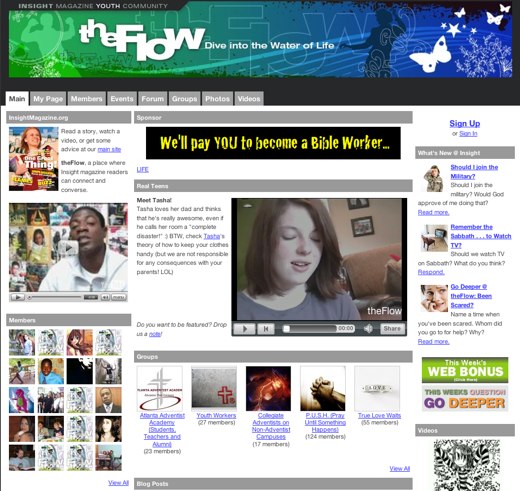 Readers of Insight magazine convene here to go with the Flow. This network was created as an Internet oasis for young adults looking for a social network with a purpose. "the Flow was created as a place where active spiritual seekers can come to develop healthy friendships and gain strength to live passionate committed lives as Christ's followers."
The network is full of ways to join others in friendship and discussion about life, and devotion. The groups section provides a way for members to get involved in activities that interest them. The Pathfinder Ministries group has quickly grown into an active place for Adventist youth to congregate and discuss the Pathfinder experience. Other groups offer camaraderie in the struggle to understand pure reality through the difficult teenage years.
The videos section offers postings spanning the realm of internet media, from christian inspired music groups, to funny videos that keep you laughing. This section is also home to artwork from the Flow members.
Social networks can be daunting for young adults. What should they share? How should they connect? How can they meet people in a safe environment? Members of the Flow have found answers to these questions on this great social network!