HUDdle up at the HUD Foreclosed Network
Ning Network Spotlight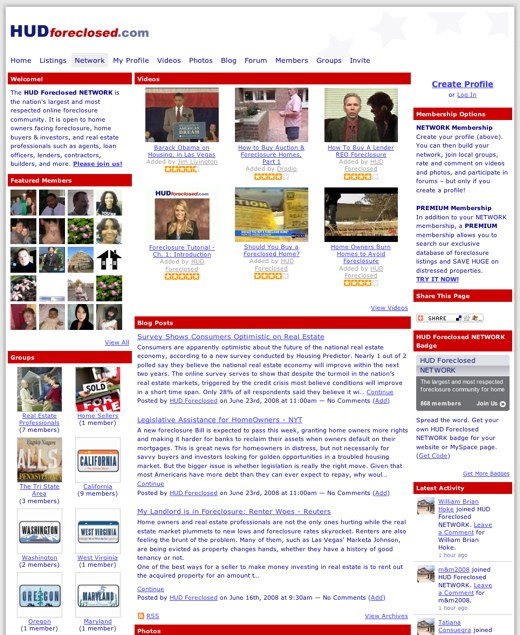 Some people refer to the current real estate market as a crisis. But no matter what you call it, the number of foreclosures in the United States is reaching troubling highs. That's why there's the HUD Foreclosed Network, an online community for homeowners and prospective home-buyers alike.
As the social networking branch of HUDForeclosed.com, this network helps members keep abreast with breaking news and developments in the housing market. Members can visit the blog, which references relevant articles from CNN, The New York Times and other major news outlets. In the videos tab, you can watch Barack Obama speak out against predatory lenders and call for tougher crackdowns and a new housing security program.
Before I checked out the HUD Foreclosed Network, I didn't know my REOs from my oreos. (I rent.) So I was really impressed with the forum, where HUD Foreclosed (a self-described real estate guru) answers member questions. Don't know what an original loan is? Want to know the implications of a tax assessment? Turn to the featured discussions and find out.
They say necessity is the mother of invention, and the network is certainly addressing the needs of homeowners around the country. Whether you're looking to sell, buy, or just have a look around, you'll see why almost 1,000 members have joined the HUD Foreclosed Network.