Israeli VCs, entrepreneurs connect
Ning Network Spotlight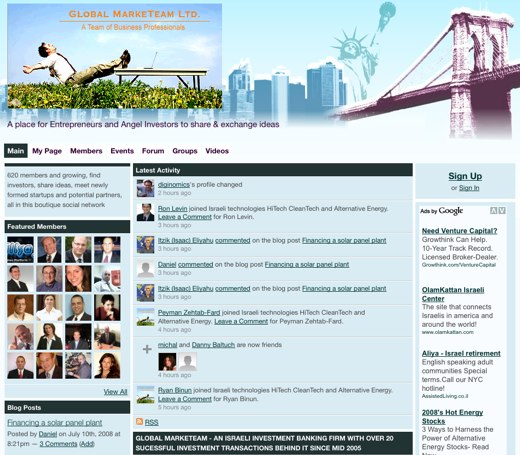 High-tech Israeli entrepreneurs and investors know the Internet well. However, if they're not members of Israeli Technologies, they may be missing the Next Big Thing or the chance to secure those desperately needed start-up funds.
The network is already a huge resource for members of the venture capital community. It was started by Network Creator Sharon Weshler, who is a leader in the VC field. As testimonials on the network proclaim, "In the rough sea of business development Sharon is a lighthouse. A man of his word, persistent, most professional business broker, and full with enthusiasm. Sharon is one of few who cherish honor and values in business."
The network also serves a one-stop news resource. Instead of visiting various business news sites, Weshler has pulled RSS feeds from across Israel and the global VC community to allow members to catch up on all VC news without even leaving the network.
Of course, the goal of the network is to be "A place for Entrepreneurs and Angel Investors to share & exchange ideas." Accordingly, members often take advantage of the forum and blog posts to pitch ideas or seek out start-ups to fund. Are you seeking funding for a solar-power plant or do you know about non-chemical methods for water treatment? Or maybe you'd just like to share great online tools for VCs and entrepreneurs you've come across.
Whatever the case may be, if you've got a connection to Israel or the VC world, join Israeli Technologies and make that great happen!