Its Game time
Ning Network Spotlight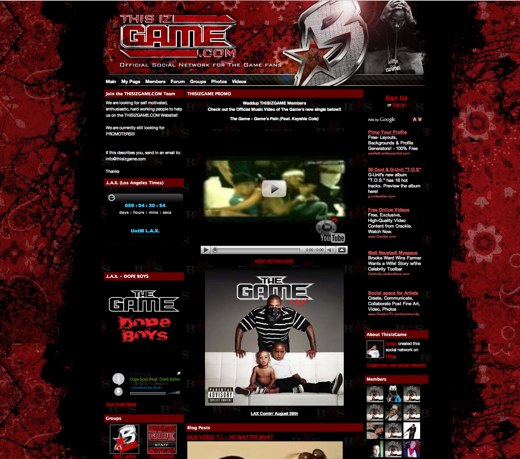 With more than 8 million records sold, Grammy nominated rapper and actor The Game, who put the West Coast back on the map, has launched ThisizGame — the ultimate social network for Game fans worldwide.
As Game gears up for his highly anticipated third studio album L.A.X., ThisizGame gives you the latest hip-hop news and happenings in the world of the West Coast rap icon. Set to drop August 26, the countdown has already begun for L.A.X., and after listening to his first single, "Game's Pain," with Keyshia Cole, this album looks like its set to be yet another hip-hop classic.
A fantastic network for Game fans worldwide, Thizisgame is full of exclusive content that can only be found on his network. Check out the debut of his music video for 'Game's Pain' on the main page, or in case you missed his interview on 106 and Park visit the 'Videos' section. If you're wondering about the production and guest appearance on L.A.X., his latest mixtape appearance or coverage of Game's XXL interview read it first in the blog section — a must read for all true hip-hop fans.
With more than 5,000 members, ThisizGame is growing incredibly fast through a digital-street-team marketing campaign for his record label Black Wall Street. With an extremely active and loyal fan base, the BWS street team is divided up into groups based on your geographic area across the world. Interested in repping BWS in your area? Join your local street team in the Groups section and show your support for BWS!
With buzz already generating that this may be Game's last studio album, this is a network you will not want to miss. Join ThisizGame today and be a part of hip hop history!