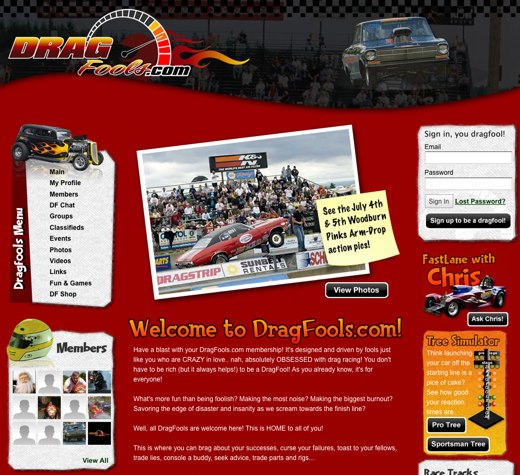 DragFools is a virtual home designed and driven by self-proclaimed fools who are obsessed with drag racing. DragFools live life on the edge: "What's more fun than being foolish? Making the most noise? Making the biggest burnout? Savoring the edge of disaster and insanity as we scream towards the finish line?"
If you're itching to get on the track, browse through upcoming events like the Northwest Bike Drag race #3 to find one in your area. Before you go, make sure to check the weather at the tracks, which you can do from a quick link on the main page! Not sure what to wear? Shop the online store where you can pick up gear for the whole family: T-shirts, hats, sweatshirts, tank tops and more – whatever your heart desires! Those who need a break from real life racing can satiate themselves with DragFools' racing games.
Keep your eyes peeled for DragFools' Official Launching, as this is just a test run. Who knows what these fools will have in store! Take a test drive at DragFools today.
No related posts.