Keeping up with SabrinaSocial
Ning Network Spotlight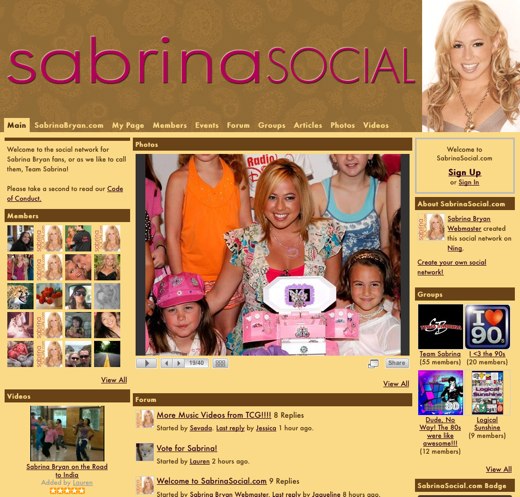 Sabrinasocial is the official social network of Disney Channel star Sabrina Bryan that allows fans across the world to keep up with the talented actress, singer and dancer. After garnering international acclaim on the fifth season of ABC's Dancing with the Stars, Sabrina has been taking the world by storm with a number of exciting projects.
As soon as you visit Sabrinasocial, it's clear that she has an incredibly active fan following, dubbed Team Sabrina. Do you love Sabrina's girl-pop group, Cheetah Girls? Join Sabrina's Social Chat and talk with other fans across the world live about your favorite song or what you think is next for the talented trio. If you want to see exclusive Sabrina footage check out the videos section to see the music video "Fuego," from their hit album TCG.
Keep up to date with Sabrina's latest projects as she expands her repertoire past entertainment into business and philanthropy. Subscribe to the News section and read about Sabrina's participation in the Color Me Gems launch with toy maker Fisher-Price at the Toys 'R' Us in Times Square. Or watch how Sabrina is a spokesman for healthy eating with Mission Foods to promote an active and healthy lifestyle for kids.
If you're a fan of Sabrina Bryan this is a network you'll definitely want to join. Join SabrinaSocial today and don't miss a beat of all the fun and excitement of Sabrina Bryan!