Kidd Kraddick's Broadcasts Online
Ning Network Spotlight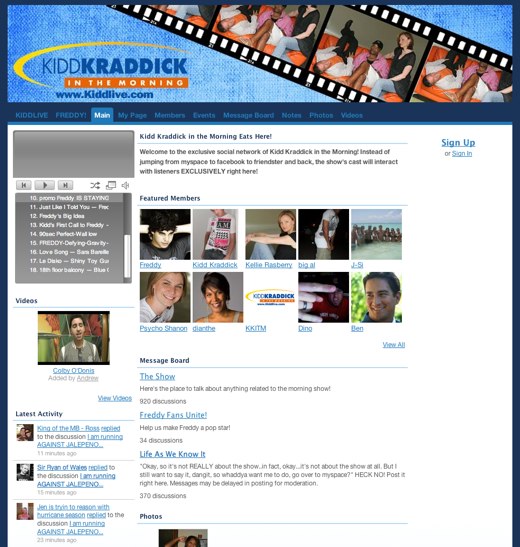 Kidd Kraddick is the star of the Kidd Kraddick in the Morning show, an entertaining mix of family friendly fun.  This shows headquarters are in Irving, Texas, but they have many affiliates around the country! As the face of radio changes, Kidd Kraddick connects to listeners using a different medium, a social network! This active network is customized to be a streamlined way for the members of this morning show to interact and entertain their listeners.
They have done a bang-up job of creating a message board that is very actively used. The discussions range from politics to farewell wishes.
As Kidd Kraddick told us, "I love the message board because our listeners are able to communicate with each other so easily. We just want to see it continue to grow. It's a great place for listeners to interact with each other and with the members of the show. I also love it that we have a great place to post photos and videos from the show."
The videos section is indeed an epicenter for members to see the faces behind the voices. Great interviews with famous artists, make this an awesome feature for seeing the "behind the scenes" of Kidd Kraddick in the Morning.
"Everything has been so easy to set up!" Kraddick said. "I'd say creating the custom links on the menu was the most difficult — and that was really easy after I found out how in the developer message board.
Kidd Kraddick in the Morning has done a great job of using advanced features and customizations to make this network unique and powerful. With more than 4,500 members they are a great example of an existing network of listeners coming together to interact and get more involved. So check out Kidd Kraddick in the Morning at Kiddnation.com!