Leading the fight to end Duchenne
Ning Network Spotlight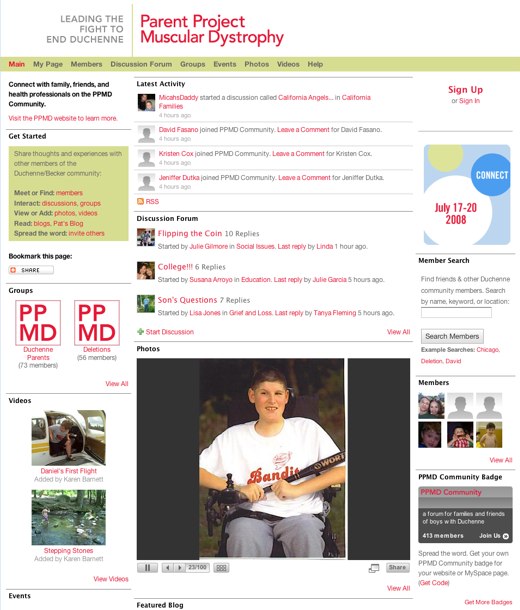 Duchenne Muscular Dystrophy is the most prevalent type of muscular dystrophy, affecting 1 in every 3,500 males. It's an affliction that impacts an entire family — that's why Parent Project Muscular Dystrophy was created. At this network, parents of children with DMD come together to talk about opportunities for participation, PPMD events, advances in research, and more.
Within hours of joining the network, I was welcomed by Julie G., who works in Sacramento. She made me feel right at home, told me about the California Families group, and even let me know that she was coming to my area in a few days to talk about DMD (thanks Julie!).
Ongoing research has continued to shed light on the causes of and potential remedies for Duchenne. That research is a subject of discussion in the forum, where concerned parents often discuss the newest findings and what action — if any — they should take. The result is a positive framework of support and feedback that extends way beyond geographical boundaries. This is exactly what social networks are for!
Many members maintain blogs, which may be the most inspiring feature of PPMD. They're also incredibly important — it's here that parents can get real-world testimonials about which treatments are effective. And in the events tab, members can learn about upcoming fundraisers like the "Rocky Run II," a 3-mile run through Philadelphia made famous in the film Rocky. For these reasons, Parent Project Muscular Dystrophy isn't just a support network — it's also right on the front lines in the fight to end Duchenne.