Learn and discover at Tenn-Share
Ning Network Spotlight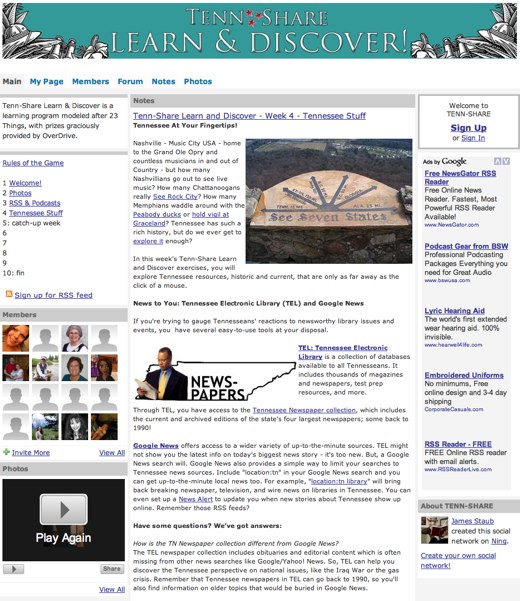 Tenn-Share Learn & Discover is a learning program modeled after 23 Things, a program implemented to teach technology skills — specifically Web 2.0 technologies.
Members are in the midst of Week 4, where they explore "Tennessee stuff." That is, technologies located in and related to Tennessee. Specific places to explore online include the Tennessee Electronic Library, Volunteer Voices and the Tennessee Virtual Archive. Members discuss these resources in the Tennessee Stuff forum post.
TennShare members don't just share their thoughts in the forum, they share a rich variety of images. Many are related to Week 2 – Photos, however some just provide a view of life in Tennessee.
If online navigation sounds daunting, fear not, the Tenn-Share team will help! Network Creator James Staub offers his assistance, along with the rest of the Tenn-Share Learn and Discover team – Kyle , Sue, Tricia, Pam and Jenny.
So join those who are already discovering the ways of the web at Tenn-Share!