Learning to be a Natural Mommy
Ning Network Spotlight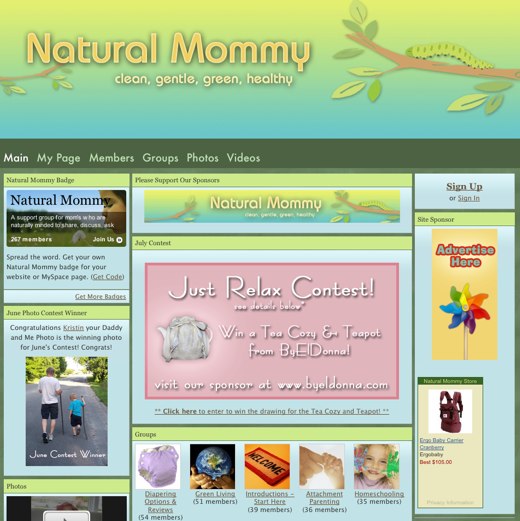 Being a mother is a tough — especially when trying to stay organic and natural at the same time. But it's a lot easier when you've got hundreds of other mothers to help you out, and that's the basis behind Natural Mommy.
As the network description says, "We are a support network of naturally minded mothers, coming together to share ideas, tips, and information about all things natural and family." The network is all about uniting members through common interests. The best place to do that, of course, is groups. The most popular group on the network is Diapering Options & Reviews, but members have created a joined a wide range of groups — from Natural Birthing Options to Organic Gardening.
With hundreds of members, Natural Mommy is already a large, active network. The Network Creator has taken advantage of this by purchasing the premium service "Run Your Own Ads" — and replacing the default Adsense ads with baby and motherhood related advertisements. It only serves to contribute to the feeling that the network is completely focused on natural mothers.
Embrace your natural side and join Natural Mommy!