Life In the World of Aspergers
Ning Network Spotlight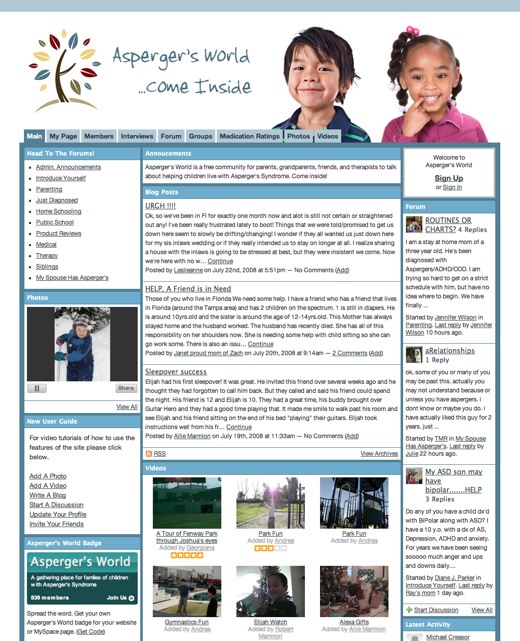 Asperger's syndrome is a social disorder that is a milder subset of autism. This condition usually affects children causing social isolation and wild behavior. Parents, teachers, and therapists of children with Asperger's have a significant added challenge to meet, dealing with the already difficult task of raising kids. For this reason Asperger's World focuses these guardians on coming together to learn more about this syndrome and find ways to deal with it.
The best way that members of this network interact is in the forum section. You can tell this from the main page, which has a guide linking members to forum discussions that may be of interest. There is a great forum category on home schooling and Aspergers, which is a common choice for parents of children with this condition.  Some choose public school.  They also have a place to connect on how to approach this.
The forum has some good topics on it and a lot of the categories are for support.  One category deals with questions about newly diagnosed children. Frustrated parents can go here to find advice and suggestions on how to deal with this difficult new situation.
This network does a great job of providing support and encouragement for people dealing with loved ones with this condition.  If you know anyone with Asperger's or want to see the power of support, you have to check out Asperger's World.