Listen to the latest hits at Top 40 Charts
Ning Network Spotlight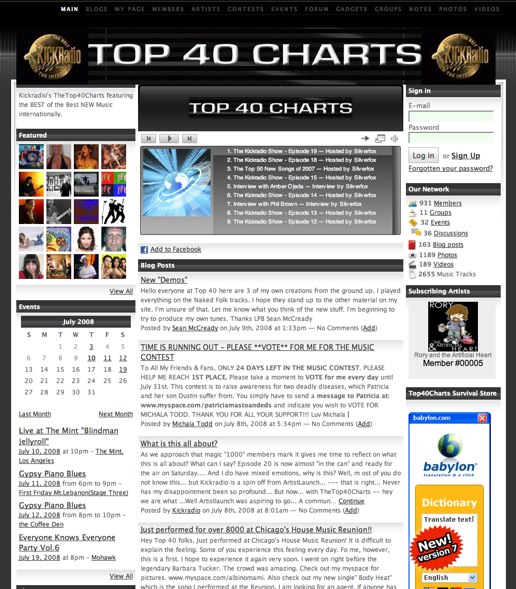 Kickradio's TheTop40Charts is a network where you can meet new people, listen to music and help select the best new music world-wide!
As I've learned from TheTop40Charts music charts are generally established from numbers of sales or plays; KickRadio believes that a music chart based on these standards can be skewed and corrupted. If you agree, join the KickRadio revolution where music charts are based on your opinions!
Here, music is selected by an international jury (made up of members like you) who evaluate songs based upon their "5 tangible cirteria":
1. The first 30 seconds (introduction) of the song
2. The Hook (Song is lodged in your memory — catchy, you can't get enough of it.
3. Uniqueness (song has it's own special identity, It is different.
4. Performance. Song is performed well by talented musicians
5. Motivation to Own. The listener likes this song so much they want to own it.
Check out the music videos, read up on blogs about the latest music news, and partake in upcoming music events. Start making music history at TheTop40Charts!