Living the Island Life in Okinawa
Ning Network Spotlight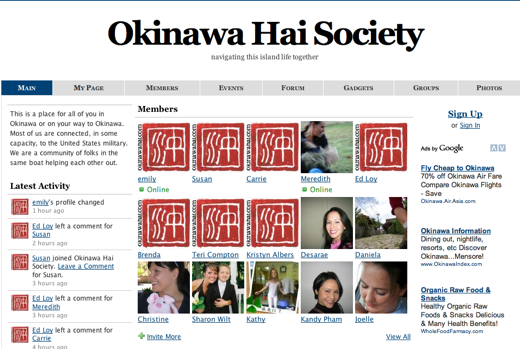 Where is Okinawa? Just a two and a half hour plane ride from Tokyo, Okinawa is an island located southwest of Japan, a very popular resort destination all-year round, known for its beautiful beaches and turquoise color sea. Among its 1 million inhabitants is Okinawan resident, Meredith, Network Creator of Okinawa Hai Society, a growing social network of members who are currently living in Okinawa or are planning to move there. Most of the members are connected to the U.S. military, as Okinawa is also home to many U.S. military bases across the island.
Immediately after joining this social network, I was warmly greeted by an active member who is known as Granpa Ed. Ed's stepson and grandchildren will be moving to Okinawa this month. Like all grandparents looking out for their grandchildren's best interests, by connecting with members who currently reside in Okinawa, Ed can gather more information about what life in Okinawa will be like for his 11-year-old granddaughter. In reading all the wonderful comments left by some of the members who have children, you can be sure that Ed's granddaughter will have a memorable childhood in Okinawa.
The forum is the most popular feature for this social network where discussions cover a wide variety of topics of every day life in Okinawa. You can also read through a series of blogs posted by Heather, a member who made a life-transitioning move with her husband and children. The journey to Okinawa was just half of the excitement as she continues to blog about island life's little surprises encountered along the way, involving a $15 dollar watermelon, a pink tutu and a whole lot of sand!
Ever thought of visiting Okinawa or moving there? Join Okinawa Hai Society and connect with some of the members who are living the island life in Okinawa.