Making Wigs the Fancy Way
Ning Network Spotlight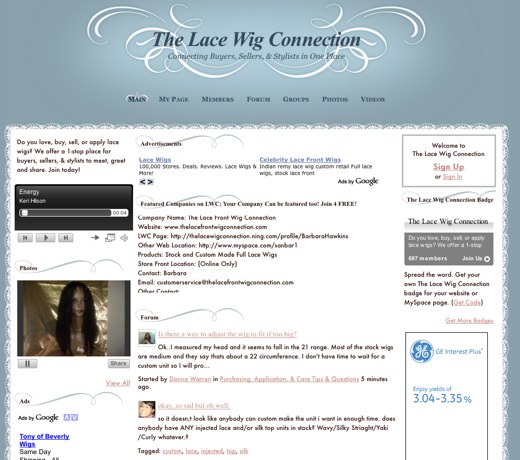 Welcome to the world of lace wigs! If you "love, buy, sell or apply lace wigs" then this network is the place for you. Navigate over to The Lace Wig Connection, or LWC, and see what this network has to offer.
The Network Creator, Shemika, makes her members feel at home with some key ingredients Shemika has created the LWC Awards for her members to see who has the best wig, lace frontal or closure. The main page also sets the mood with some tunes. Shemika offers companies the option to be featured in a classy scrolling text box on the front page.
If you are looking to buy, looking to sell or looking to chat about lace wigs, head over to the forum. Here you'll find the home of the LWC Awards, as well as a some useful categories. There is a For Sale category, that is buzzing with the same as a live action market place. Another popular category is the Selling Tips and Suggestions category.
For showing off work, vendors use the photos feature extensively. Here you can see some well put together wigs. The videos feature is also a great place for vendors to showcase their work, wigs so popular they give people "Hairgasms!"
LWC is a commercial connecting point where people on all sides of the barter can participate in an active market place. The different features are well used and make this network robust with content. Where this network really shines, however, is in the hair pieces!
Be sure to check it out.