MorePiix, fewer film canisters
Ning Network Spotlight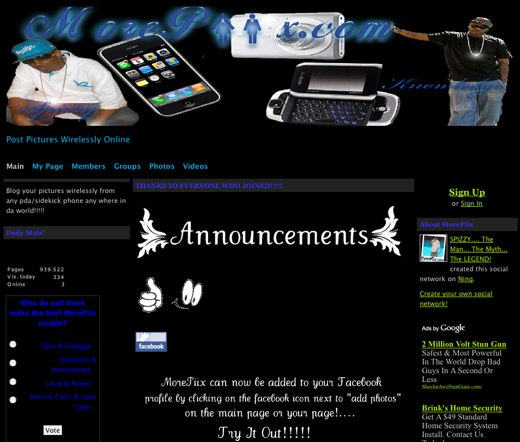 Do you long for the days where you could only take 24 pictures on a roll of film? Do you miss waiting 5 hours for the 1-hour photo store to develop your prints? Neither do the folks at MorePiix, a social network where members photoblog from their mobile devices.
Thanks to the feature that allows anyone to upload photos via email, members don't even have to be at their computer to post updates. This enables the kind of creativity and spontaneity that energizes the whole network. Sweet, scary, suggestive, sassy, it's all there at the photos tab.
MorePiix isn't just about snapping photos — it also features several active groups based on more general topics. "SPRINGER," also known as "The Beef Room," is where members go to poke fun at each other's pictures, and everyone is "subject to brutality" on the comment wall. It's a little slice of good-natured hating. In contrast, the group "MINGLES" explicitly states, "No beef is allowed in this room!… If u have a problem with another member take it to SPRINGER!" It's an encouraging sign for the network and for humanity in general that MINGLES has about 3 times as many members as SPRINGER.
MorePiix is ushering in the era of mobile digital photography. And it's a good thing, too! 12,846 photos is a lot of rolls of film.