MTD Bass Enthusiasts
Ning Network Spotlight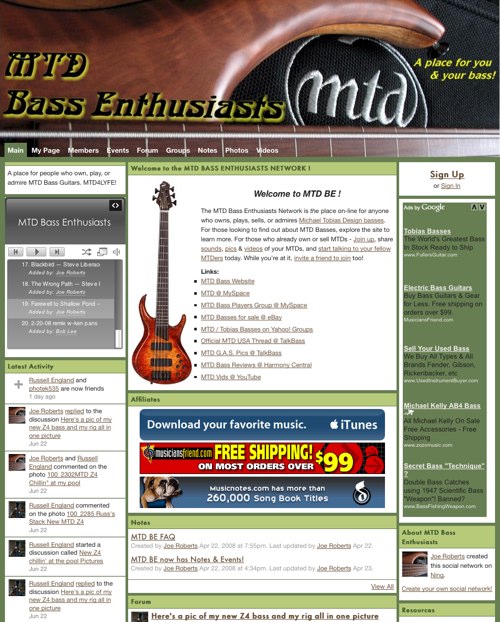 MTD Bass Enthusiasts is striking a chord with bass players everywhere.
Michael Tobias started MTD (Michael Tobias Design) in 1977. Ever since, he's been widely recognized as the best bass-maker (or "luthier," if you want to sound fancy) out there. In fact, his basses are so awesome that an entire social network — MTD Bass Enthusiasts — has been created in celebration of them.
What's so great about an MTD bass? Read testimonials in the forum, where members rave about the beautiful wood combinations that make up their instruments and discuss what strings feel best. Or watch videos of Mike himself giving tours of his workshop. You can even see him go through his step-by-step process of hand-crafting every bass.
The love for MTD basses is probably clearest in the photos tab, where members upload painstakingly detailed shots of their favorite bass guitars. And given that every bass is custom-built to order, it's no wonder why the MTD Bass Enthusiasts are so enthusiastic. Explore the network and give in to some of the "bass pleasures" of life.