MyTxDLA: Distance learning, Texas-sized
Ning Network Spotlight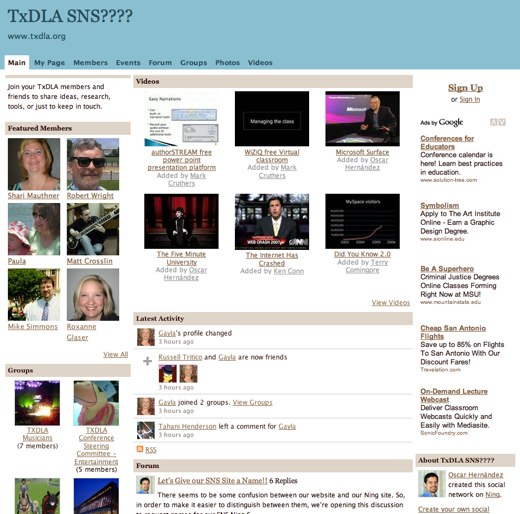 Texas prides itself in being a big state. But with 750 miles separating Amarillo and McAllen, staying in touch with fellow Texans can be a tough task. That's why there's MyTxDLA, a social network that removes the distance between distance learning educators statewide.
Although the concept of distance learning has been around since the 19th century, only in recent years has the virtual classroom become a reality. At MyTxDLA, members discuss innovations in technology that continue to transform the field. One group is dedicated to Second Life, a service that has the potential to be a great medium for education.
Of course, nothing can beat a real-life get-together — that's why there's the annual TxDLA Confererence. Members are already proposing the theme for 2009's gathering in Corpus Christi. Personally, I'm a fan of Russell T.'s Pirates of the Caribbean theme: "TxDLA – Come Get Some Booty!"
In truly democratic fashion, Network Creator Oscar Hernández held a vote for members to decide the network's name. But no matter what you call it, MyTxDLA is a fantastic network!