Parking at Car Show Nation
Ning Network Spotlight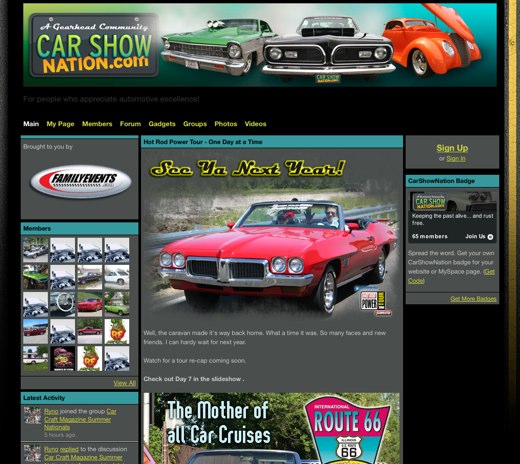 Gearheads unite! Do you like vintage muscle cars? Are you a freak for Ferraris? What ever car gets your engine running, you can probably find it on Car Show Nation.com!
Cars are defined by their looks. Appropriately this network defines itself by looking like an actual car show. Great graphics of stellar vehicles abound on the network's main page. But that's just the start of this revved-up network.  Roll over to the photos page and you'll see the look really come through. Some great cars from some awesome auto shows are uploaded here.
The groups page helps people find the car show that they belong to. Some might feel home at the Hot Rod Super Nationals. Avid fans of Car Craft Magazine can check out the Car Craft Magazine Summer Nationals. These groups let members talk about local shows that they've been to and find new ones to attend.
Those readers who have never been to a car show, it's hard to understand the magnitude of people and passion that go into vehicles. People love the styles, love the speed and love their cars! If you have a need for speed or beautiful vehicles that will let you get some, check out  Car Show Nation.com!