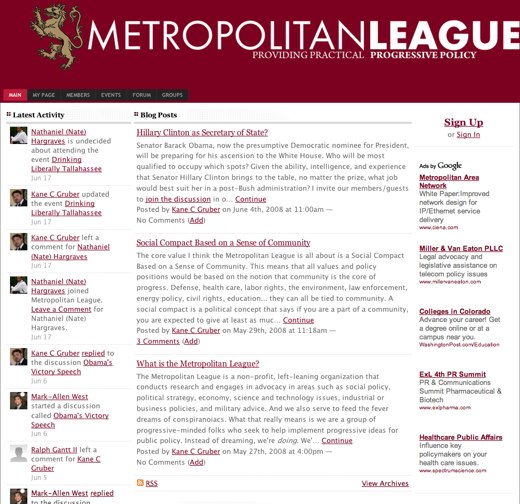 Election season is upon us, which means that concerns about national policy are more pressing than ever. According to Network Creator Kane C Gruber, the Metropolitan League is a network of "progressive-minded folks who seek to help implement progressive ideas for public policy."
Now that Barack Obama is the presumptive Democratic nominee, members have begun examining what kind of administration he would or should have support him. Hillary Clinton as Secretary of State? Wesley Clark as Secretary of Defense? See what people are saying in the forum, where an ongoing discussion asks who would be ideal for various positions in the Cabinet.
Recently celebrating its one-month anniversary, the network stands poised to expand as Election Day draws ever closer. If you want to join a network committed to shaping the government's future, the Metropolitan League is for you!
No related posts.