Put your hands up for Detroit Tweetup
Ning Network Spotlight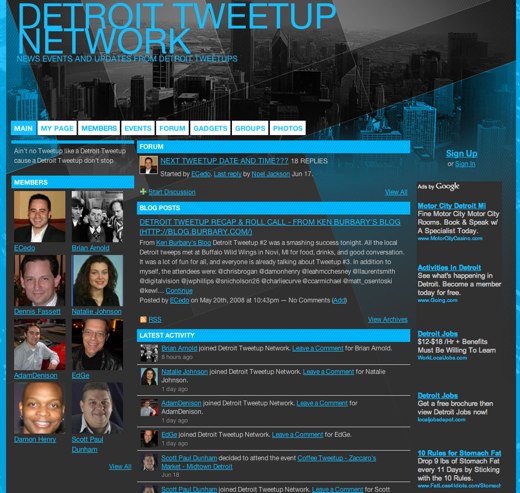 Before I even start talking about this next network, we should go over some vocabulary:
Tweeter, n. One who posts, or "tweets," on the micro-blogging service Twitter.
meet-up, n. Gathering; get-together.
Tweetup, n. A meet-up of tweeters.
Got it? Good. Then you're ready to appreciate the glory that is the Detroit Tweetup Network. I'm a sucker for slick design, and this network's got it with the "Highrise" theme. A blue-and-gray geometric pattern superimposed on the cityscape oozes metropolitan cool.
At the forum, members plan out the next Tweetup. Easier said than done! Should it be in the suburbs, or the city proper? Divey bar or upscale restaurant? These are the issues hotly debated in the discussion threads. But there's one thing that everyone can agree on: at 53 members and counting, these Tweetups are going to start needing bigger venues!