Get in the RightHealth today!
Ning Network Spotlight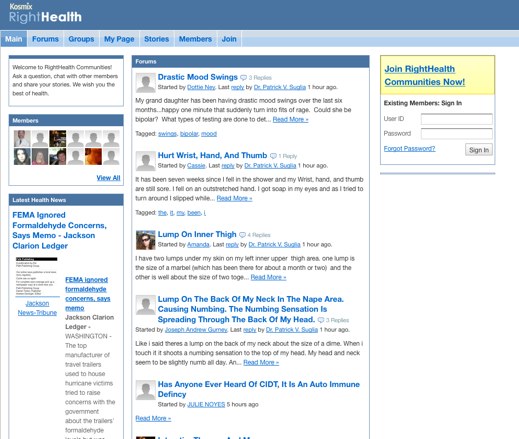 RightHealth's goal is to make understanding your health easier by searching the entire health Web and categorizing it for you into useful modules. With your health in mind, they took it a step further by creating RightHealth Communities, a place for you to connect with real people .
RightHealth Communities is simple idea and network, but an ingenious one at that. It's a place for you to ask questions, chat with members and share stories. Discussions are conveniently categorized by topic, with Miscellaneous Diseases and Conditions and Drugs and Medications as those most contributed to. The RN Moderator and QA Moderator (a Registered General Nurse and Social Worker from England with more than 30 years of experience) are both there to talk to you and answer your questions.
RightHealth Communities boasts more than 8,500 members, 850 stories and 14,000 discussions.  Most importantly, RightHealth Communities provides a safe space for you to ask questions that make be scary, embarrassing or just plain uncomfortable completely anonymously. Get comfort or peace of mind by hearing from others that have experienced what you may be going through. Ask questions and express concerns to have them addressed by professionals.
Get your health in check at RightHealth Communities today!