Ringside with Arlovski
Ning Network Spotlight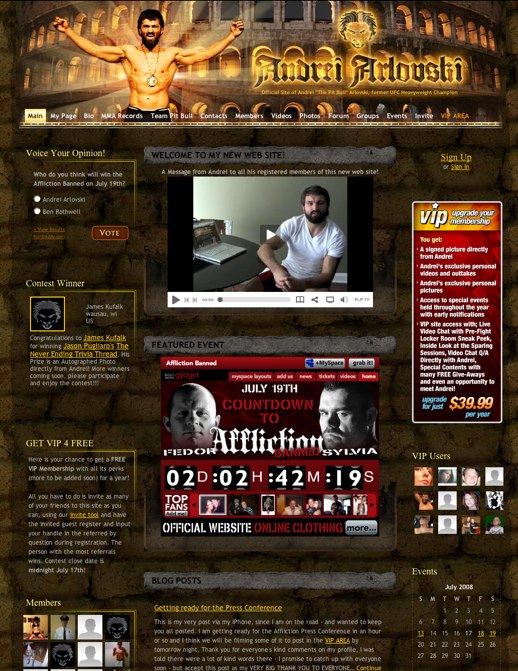 I'm excited to say that Andrei "The Pit Bull" Arlovski, a Belarusian mixed martial arts fighter and former UFC Heavyweight champion, has launched his official website!
Besides being a former UFC champ, you have to figure that anyone gutsy enough to play Russian roulette at the age of 16 is pretty bad ass. That's just one of the interesting tidbits I picked up by becoming a member! Read up on Arlovski's past, check out his killer training and workout videos and meet other loyal fans.
Fans will agree that it's awesome to see your favorite and feared MMA fighter online, regularly posting blogs, photos and videos and doing ordinary things just like you! But what motivated Arlovski and Team Pitbull to create his extremely fan-friendly network?
"My fans always want to see new photos, videos and be able to talk about my fights," says the former champ Arlovski. I receive hundreds of emails and with my next fight July 19th, this is a best way for me to be able to communicate with them and for them to see video and photo clips from my life and training."
Can't get enough of The Pit Bull? For just $39.99 per year you can upgrade to a VIP membership which gives you behind the scenes access: a signed picture directly from Arlovski, exclusive personal videos and outtakes, exclusive personal photos, access to special events held throughout the year, free give-aways, live video chats with Arlovski and opportunities to meet the the world class fighter!
Having grown up in Belarus, Arlovski charmingly apologizes for his English as he chats live via video. It's pretty exhilarating seeing your favorite fighter (virtually) up close and personal. He chats with his VIP members about anything they want — his thoughts about his upcoming fight against Ben Rothwell, his favorite recent fight, his high protein diet and his adorable dog Maximus. He's so friendly and real, which makes it almost difficult to grasp that he and the menacing fighter we see in the ring are one in the same.
Arlovski's official website demonstrates the amazing things a network can accomplish. As tech guru of Team Pitbull, Eric so simply states, "This is something that was never possible before. If I ever wanted to see or talk to Michael Jordan, it would be a one-in-a-thousand chance that I would ever have that opportunity. On the new website, it's very simple, and something Andrei invites friends and fans to participate in."
Get ringside access with Arlovski today!