School Matters!
Ning Network Spotlight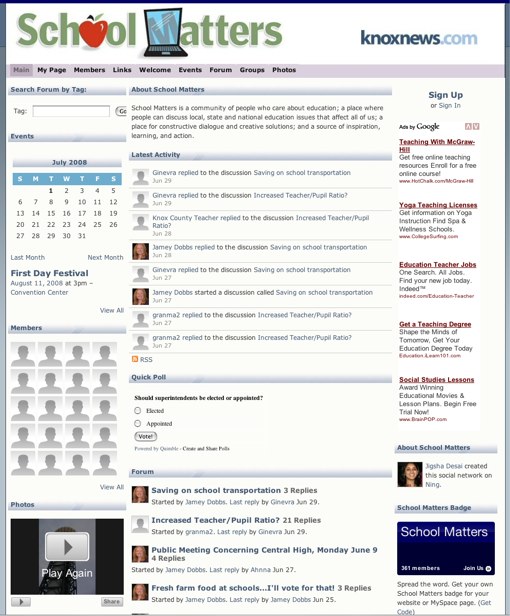 It has been said that it takes a village to raise a child. Why not a distributed social network of teaching professionals? Members of this network have gotten together to collaborate on ideas that can enable change in the institution of education. They know that School Matters!
Jigsha Desai, the Network Creator, and an increasing following all seem to agree that change is necessary. Jigsha describes here network as "a community of people who care about education; a place where people can discuss local, state and national education issues that affect all of us; a place for constructive dialogue and creative solutions; and a source of inspiration, learning, and action."
New members to this network will feel right at home in this vehicle for educational change. Jigsha has done a great job welcoming new members. Her welcome message provides a needed guide on how to be a contributing member to the network and a guide to effective participation in the forum.
Improving education should be an active dialogue from participants who have the clout to make difference. The forum section of this active network is where those ideas for improvement are able to flourish. Members can have active discussions here. A few teachers ponder the benefits and detriments of implementing a dress code in their school system. Members curious about student development should check out this discussion about whether or not middle school should start in 7th grade.
Education has shaped who we all are. Whether you are interested in dress codes, development, or just want to explore the improvements that real teachers are looking to implement, head over to School Matters!