Shoppers and sellers unite at iEmporium
Ning Network Spotlight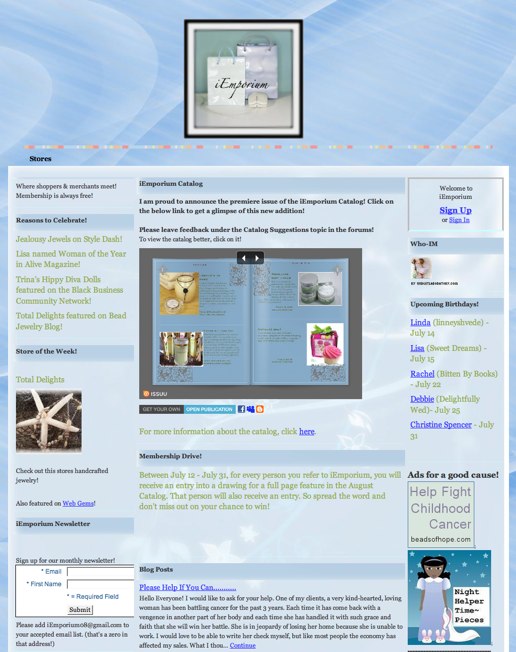 iEmporium is a vibrant network filled with shoppers and merchants.
As a consultant to four businesses, Network Creator Melissa certainly keeps herself busy. By creating iEmporium, she was hoping to fill the void by designating a place where shoppers and merchants are easy to find, promote and acknowledge. So far, Melissa has implemented a catalog and directory, with plenty more to come at iEmporium!
The main page of iEmporium alone has enough to keep anyone busy for hours! To satisfy your shopping urges, shop the Store of the Week. Still not satiated? Browse through the colorful store advertisements on the right side of the page which include businesses for a cause, like Beads of Hope. If you'd rather have some personal interaction, dive into the chat or read some blogs to get to know other members. The main page currently features 20 awesome blogs, all posted within the past three days. Needless to say, iEmporium members are quite a lively group.
To meet more shoppers and merchants like yourself, participate in the Membership Drive by recruiting your favorite people to join iEmporium. Every member you refer to iEmporium is another opportunity to win a full page feature in the August Catalog!

Shop or sell at iEmporium today!