Show your spirit at Illinisoul
Ning Network Spotlight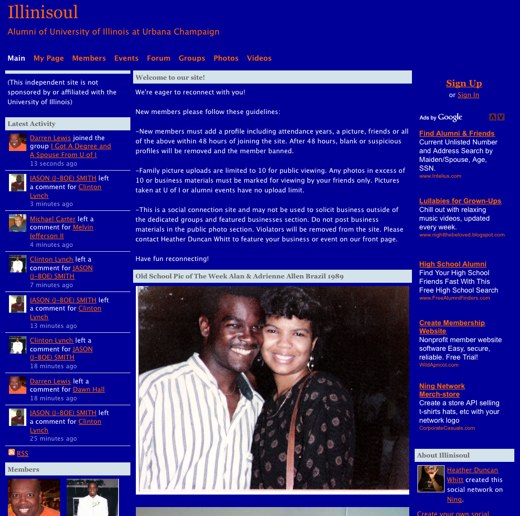 If you spent the best years of your life at University of Illinois at Urbana Champaign, you'll definitely want to reconnect with old friends, peers, colleagues and roommates at Illinisoul!
To create a safe and personal space, members are required to upload a profile picture and include attendance years. Illinisoul is a great way to catch up with old friends and see what everyone's up to. You'll never know what you'll discover…One alum is currently on ABC's television show, The Mole!
Network Creator Heather Duncan Whitt is generous enough to feature alumni businesses every week on Illinisoul for free! Members can also submit photos to have theirs displayed as the Old School Pic of the Week. Currently, the radiating Alan and Adrienne Allen Brazil grace the the main page with a great photo from 1989 paired with a slightly-more-recent recent shot.