Showing some love for the 80's babies
Ning Network Spotlight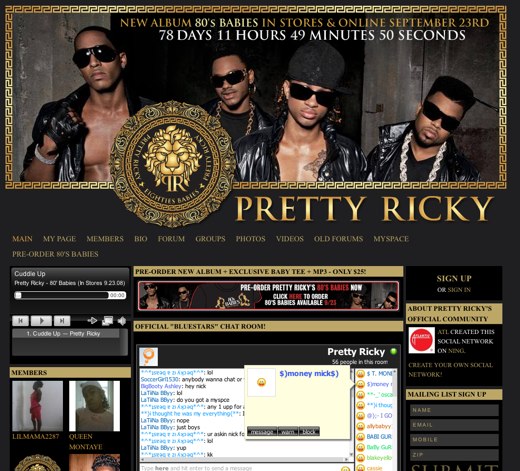 After the tremendous success of Pretty Ricky's steamy sophomore album Late Night Special, the crooning quartet from Miami is back again with their third studio album 80's Babies. Because of their tremendous digital fan base and commercial success, Pretty Ricky has launched their very own official Pretty Ricky network on Ning.
Ladies, if you love Pretty Ricky's newest single "Cuddle Up" you will want to check out the videos section to see their exclusive web series "21 days of 4play". The series shows the quartet making their latest album, rehearsing with new lead singer 4Play, and managing life on the road as one of the hottest R&B groups today. According to their bio, the group plans to unleash a series of entrepreneurial ventures including a Pretty Ricky clothing and accessories line, and continue their new tradition of having at least one remake track on future albums!
Of course, just like their music, the Pretty Ricky network has an exclusive PR (short for "Pretty Ricky") touch that allows their fans to reach out and be a part of a network unlike any other.
Want to chat about your favorite member of the group? Check out the forums section and let your voice be heard. Maybe you want to discuss your favorite PR album. In that case, join the official 'Bluestars' chat room and talk to other Pretty Ricky fans live! Maybe, you just want to show off how much you love Pretty Ricky to all your friends. Who wouldn't? You can pre-order their new album directly from the main page and receive an exclusive Pretty Ricky baby tee and an immediate download of their first single "Cuddle Up."
With Pretty Ricky's third album dropping September 23, music fans will be buzzing. So join the official Pretty Ricky network today and follow the R&B sensations as they climb the pop charts!