Soul and vegetarian cuisine, a great pair
Ning Network Spotlight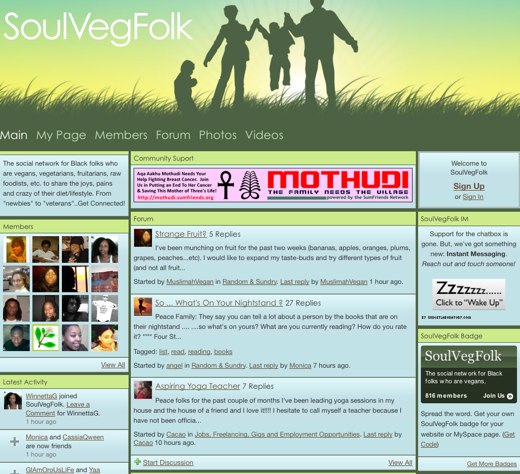 SoulVegFolk is approaching 1,000 members, and it's easy to see why this social network is gaining so much popularity.
Network Creator, SoulVegFolk Team has done a fantastic job of connecting "Black folks who are vegans, vegetarians, fruitarians, raw foodists, etc. to share the joys, pains and crazy of their diet/lifestyle."
According to the Network Creator, a meatless diet has been followed throughout all parts of Africa, and civil rights activists, Martin Luther King, Jr. and Dick Gregory were known to have "changed their diet as an extension of their activism — long before the explosive trend of soy burgers and other tofu products on the market."
Since the forum is one of the most-used features on this social network, the featured discussions is the perfect spot to display the Community Guidelines and the social network's first newsletter, "What's Happenin?" The forum is a wonderful place for members to share and exchange delicious vegetarian dishes on Recipe Swap Meet. Stay Motivated, Stay Healthy is also where you'll find members offer support to those who recently transitioned to following a meatless diet and useful tips to maintain a healthy lifestyle.
Members like Vida shares her raw food adventures on her awesome blogs, Living Foods Chronicles from La La Land while other members have uploaded photos of delicious vegetarian dishes like the ones displayed on this slide show.
Enjoy!