Start watching your charts
Ning Network Spotlight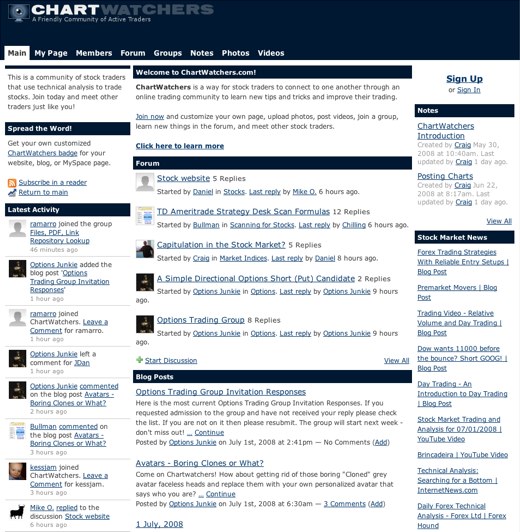 ChartWatchers is a friendly network of stock traders that use technical analysis to trade stocks.
If you're new to trading, you can pick up some awesome tips in the forums. Chilling's discussion, "Risk, Money Management, Exit Strategy and Discipline," has been featured and is very well received among fellow traders. Network Creator, Craig, kindly shares lots of great resources on his profile page with multiple links to outside references including TraderFeed and MarketClub.
Veteran stock traders can share and learn new tips and tricks to improve their trading! Join traders like you, whether you're an Options Trader or Swing Trader. Use the photos feature to upload charts or graphics related to trading and get a discussion going!
To get the most out of ChartWatchers, read Craig's welcoming introductory note. Interaction, discussion and sharing of information is highly encouraged, with just three very reasonable rules in place:
Be nice and courteous to all members.
No advertising in the forum.
Pay it forward. If you learned something new here then help other traders by contributing to the forum!
Traders everywhere should check out ChartWatchers and pay it forward today!