Swinging your way through summer
Ning Network Spotlight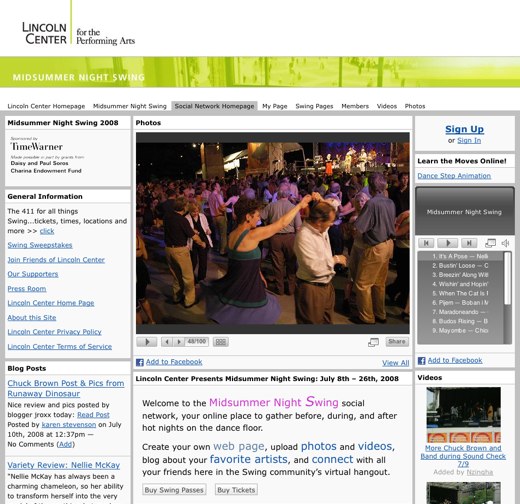 For a few all-too-short weeks in July, crowds gather in the fabled Lincoln Center and dance the night away as part of the popular Midsummer Night Swing program. But no one wants the fun to stop when the swinging ends, so — as The Deal reported earlier — the Lincoln Center has put together a social network to keep the energy going off the dance floor.
Midsummer Night Swing is beautifully integrated with the Lincoln Center for the Performing Arts's main Web site. Using the standard appearance settings available on your social network, both the Midsummer Night Swing network and the Lincoln Center Web site have the same well-designed header and gray background, so visitors to the network feel like they haven't even left the Lincoln Center site.
Of course, when it comes to the Midsummer Night Swing program, there are two essential components: The music and the people. So of course, members are welcomed to the sounds of swing music using the network's built-in music player. And the program wouldn't be much fun without people, so the events section is loaded with information about each night's swing program to make sure as many members attend as possible. Be sure not to miss the Spanish Harlem Orchestra!
No one wants to forget about the memories once the dancing is done, so the videos section has become the place to collect the Swing memories. You can find instructional dancing videos or even videos of bands from the wider swing world.
If swing is your thing, join the fun!