The Hue and Cry Music Club
Ning Network Spotlight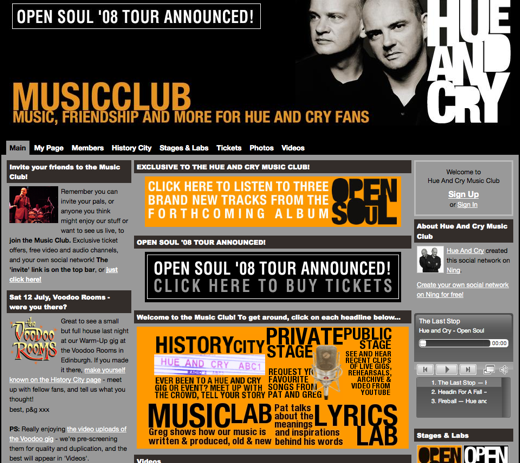 If you grew up in the UK in the 1980s, you may be familiar with brothers Pat and Greg Kane, otherwise known as pop group Hue And Cry. With singles such as "Labour of Love", they have definitely made an impression on the UK music scene. I would talk a bit about their new Hue And Cry Music Club, but Pat brings it up in an issue of The Big Issue Scotland, and I really couldn't say it better myself:
So we've built the Hue And Cry Music Club, accessible from www.hueandcry.co.uk, which is a celebration of our music and performance in all its guises – prioritising the audience as much as the artist. When fans join up, they can see high-quality videos of gigs past, present and future; they can even vote on the favourite cover they'd love us to do as a piano-vocal, which we'll then broadcast. There's a social networking forum called History City, which gives every gig we've ever performed over the last 22 years its own website. We invite fans to upload memories, memorabilia and meet old friends in the process.

For those who want to see "under the hood" of our recorded music, we have the Music Lab and Lyrics Lab, where Greg and I show how we put our tracks together – and provide sound samples from those tracks available for download and remix.

This is all free at the moment, digitally hand crafted by Greg and I. It's also, frankly, more labour (of love?) than I've ever put into anything. But the sense of control over one's own destiny is amazing, and the interaction with the fans that are beginning to find us on the web is already rich and rewarding.
Never one to rest on previous laurels, they have built an interactive component to their social network, submitting a list of twelve songs to cover for their members to vote on. After a round of voting, they'll be covering songs such as "Knocks Me Off My Feet" by Stevie Wonder and "King of Pain" by Sting in the upcoming year. For people outside of the UK who may not have heard of Hue And Cry up to this point, take a listen at this acoustic cover of Beyonce's "Crazy In Love":
Awesome, right? Right. Because for Hue And Cry, having a social network is a great way to connect with their lifelong fans as well as a great way to make new fans all around the world.