Find your inner child at the Ounce
Ning Network Spotlight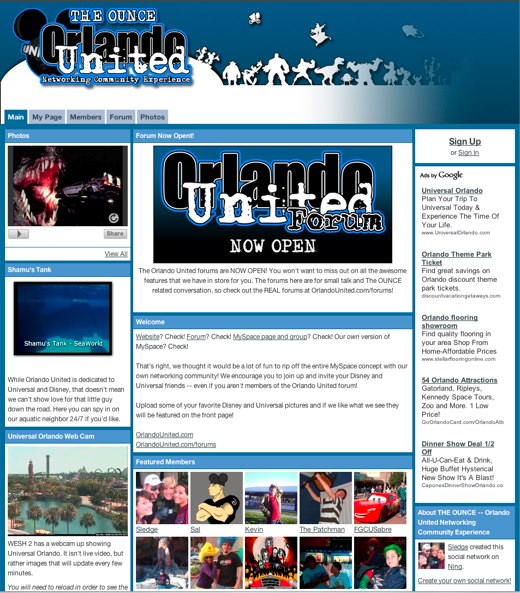 Friends and lovers of Disney and Universal now have a home at the The Ounce – Orlando United Networking Community Experience. All the theme parks are now here in one place giving you a great virtual experience.
To really feel like you're in the middle of everything the main page is home to some awesome webcams. Have you ever swam with an 8 ton killer whale? If not, Shamu is waiting for you. You can also get a great areal view of the studios in the Universal Orlando Web Cam. They also have the weather in Orlando displayed at all times to truly immerse you in the Orlando experience. If that wasn't enough to entice you… well there's more!
The forum is a great resource for park goers to connect. Looking for tickets? You might find some here.  You can also find introductions and get to know the other members. The photos page is another great way to share the visual aspect of the parks. Go on a virtual Jurassic Park ride. Be mindful of the man eating Velociraptors however. And Dumbo… Wait, I'm getting my rides mixed up!
If you are as mixed up as me, straighten your self out with ton of fun… strike that an Ounce of fun at the Orlando United Networking Community Experience!
Check out Shamu!