Uptime & August Maintenance Windows
Maintenance
I'm Ram Reddy, the VP of Operations at Ning. As you know, we take the performance and availability of your networks very seriously. We are committed to providing you the absolute best, highly scalable platform for creating and growing Your Own Social Network for Anything.
In the past few months, we've done a ton to make sure that new releases and other operational tasks are done with little-to-no downtime and we've succeeded.
What used to require a 2-3 hour maintenance window on a Saturday night is now done with no downtime to your social network. Looking at our uptime numbers for 2008 we continue to get better and better. We expect nothing less of ourselves and the Ning Platform.
Here's a graph of our uptime and availability since January: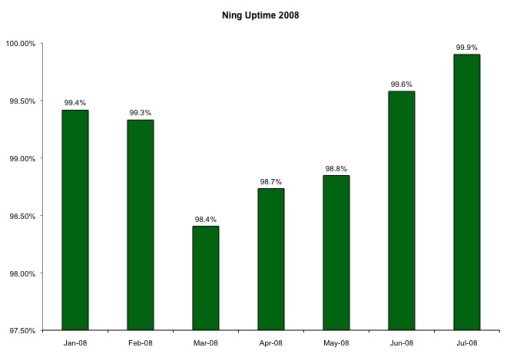 We had 99.6% uptime in June and 99.9% so far in July. We've been steadily improving month over month since the unacceptable low of March. Our goal is to see those green bars climb even higher from here.
That's the good news.
The bad news is that over the next two weeks, we're planning a series of network migrations and Ning Platform upgrades that require downtime. If we could do them without planned maintenance windows, we would. But we can't.
To this end, we will be performing planned maintenance for the Ning Platform on Friday, August 8th from 9:00 PM PDT to 11:00 PM PDT.
Additionally, we will be migrating networks in batches to new, better infrastructure over the course of the next two weeks. This new infrastructure will increase the speed of your networks as well as continue to improve ongoing stability. To complete these migrations, we'll need to take your network down for 2 additional planned maintenance windows of 30 to 60 minutes each at some point during the next two weeks.
Because we'll be doing this work in batches, it may seem as though there is a lot of intermittent downtime across the Ning Platform. That will not be the case. While there will be interruptions of service on your network, we should still achieve between 99.8%-99.9% uptime for August, or a total of 3-4.5 hours of downtime for any individual social network on Ning.
We will be contacting Network Creators of these migrations via email. We will also be available to provide specific details about your network and answer any questions at any time from the Ning Help Center.
Additional information and updates will be funneled through Ning Network Creators and the Ning Status Blog. Lastly, we will continue to provide regular updates here on the Ning Blog as we do this work.
We appreciate your patience in advance and look forward to getting through this work together as quickly and smoothly as possible.