What's cooking at FohBoh
Ning Network Spotlight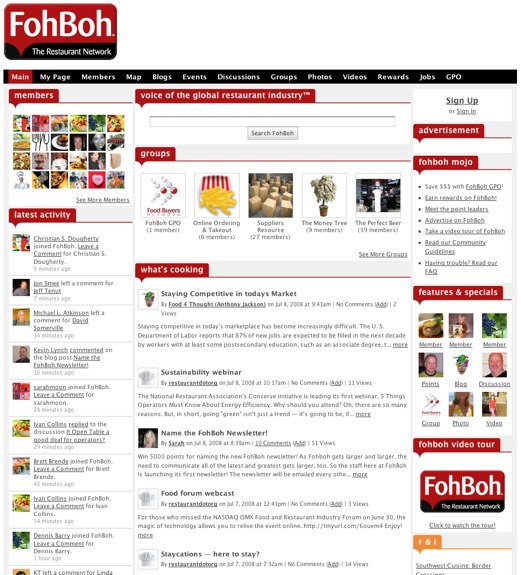 FohBoh (short for Front of the House, Back of the House) is a vibrant social network and business exchange for the worldwide restaurant industry that welcomes anyone with any interest in food or restaurants! And when I say anyone, I mean anyone.
As described by Network Creators and Founders, Ted and Michael, "FohBoh is for servers and CEOs, cooks and chefs, managers and executives, bartenders, commercial Real Estate developers and brokers, architects, designers, lawyers, accountants, food and beverage vendors, wineries, boutique produce growers, bakers, consultants, concept developers, investors, lenders, owners, franchisees, franchisers, operators, manufacturers, and more. It's a big universe!
Hoping to move beyond the "consumer-centric sites" that already existed, they created FohBoh to let anyone and everyone establish an interactive voice to connect, communicate and transact. Having launched on the first day of 2008, they've grown tremedously to reach more than 7,000 members today!
Chime into the active discussions that take place. Use the events section to promote your events for free. Browse through more than 300 groups to meet members and make friends in your specific niche. Share a great idea by describing it in a blog. Ultimately, FohBoh utilizes technology to fill a vast hole that existed in the restaurant industry and does it extremely well having created a thriving, positive and collaborative network.
Still not sure if FohBoh is for you? Think about this; here's a one-stop place for great ideas, feedback and business connections regarding every area: staffing, concept development, hiring and retention methods, shift-orientation and scheduling, purchasing methods, employee training, equipment and maintenance, licensing, health regulations, real estate, site selection, customer service, financing, legal and marketing…just to name a few.
So stop in to see what's cooking at FohBoh today!
If you'd like to learn more, watch the great screencast of FohBoh: