Young Jeezy: Certified Fresh
Ning Network Spotlight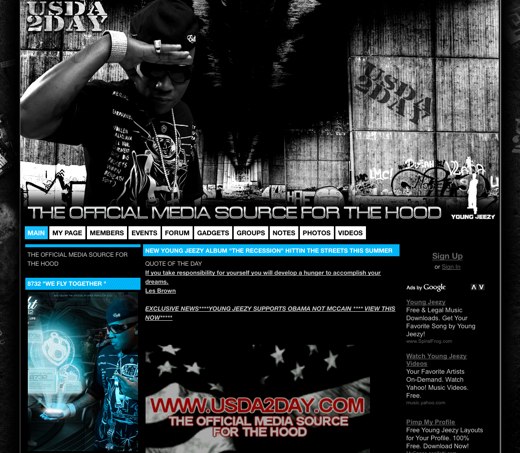 There may be a lot of Web sites dedicated to hip hop and rap, but few are USDA certified to be 100% fresh like rapper Young Jeezy's official hip hop network USDA2day.
With a series of blazing hip-hop albums dropping this summer, rapper Young Jeezy is set to release his third studio album 'The Recession' on August 19 after the commercial and critical success of 'Thug Motivation 101' and 'The Inspiration'. The hip-hop icon who represents 'the streets and the struggle' has given his fans exactly what they want — an inside look into Jeezy's thug motivation as one of the best rappers in the game today. With a 'Body Count' of over 8,000 members representing traps and 'hoods from across the country members have been extremely active on Jeezy's network uploading over 215 videos and 1,500 photos.
What makes the USDA2day network truly unique is that Jeezy has left his mark throughout the network. With an active blog you can keep up with everything Jeezy. So what is Jeezy doing to always stay fresh? Check out his blog to see how he's living. For this fourth of July weekend Jeezy's shoe of the day is his custom Red, white, and blue Air Jordan 1 retros. And what better way to show off his kicks than in his whip of the week — the ultra exclusive Koenigsegg CCX.
If you want more Jeezy and can't wait for 'The Recession' to hit stores, you can download his mixtape 'Prime Minister' for free directly from USDA2day. From the studio to the streets Jeezy has you covered; so what are you waiting for? Join the USDA2day network today and stay 100% hood certified!