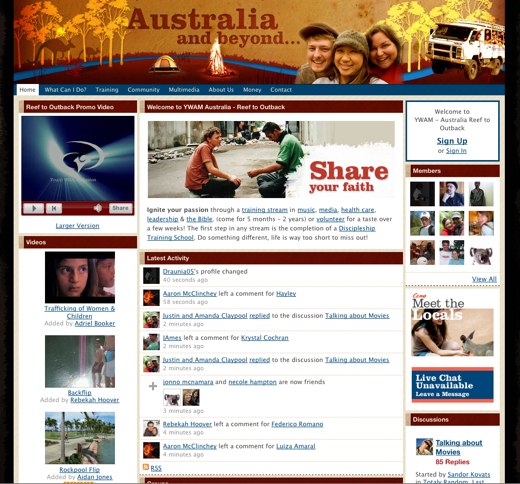 Reef to Outback is part of Youth With A Mission, one of the largest Christian mission organizations worldwide. YWAM is "an international movement of Christians from many denominations dedicated to presenting Jesus personally to this generation, to mobilizing as many as possible to help in this task, and to the training and equipping of believers for their part in fulfilling the Great Commission."
The Reef to Outback movement began with a series of events from 1982-1984, when Phil and Toni Powell believed that God was highlighting North Queensland as a ministry location. After years of hard work, Reef to Outback became a registered training organization in 2001 under the Australian Recognition Framework by the Training Recognition Council. The areas of focus include Townsville and extends to the North Queensland region and throughout Australia, into South East Asia and the South Pacific.
Their mission, values and devotion are evident as they outline their path, foundational values, and statement of faith. If you're interested in getting involved in helping today's youth, there are many ways you can make a difference! Consider joining the Reef to Outback staff. If you have commitments that you simply can't break, become a short-term volunteer or donate to the cause.
Become a leader of the pack at Reef to Outback!
No related posts.