A Little Preview of Updates to the Ningbar
Updates
Your Ning Network
Happy Monday! We've got a nice little mini-release going out tonight that we're pretty fired up about, but we also wanted to give you an early look today at a few substantial changes we're making to the Ningbar on your social network. The current target for these changes is Sep. 18 now Friday, Sep. 26 at 6 p.m. Pacific.
Today, all messaging and friend requests happen in an expandable panel at the top of your network, in something we call the Ningbar. In a slightly confusing legacy design, your message inbox contains messages you've sent and received only on your network, while your friend requests represent your friend requests across ALL networks in which you are a member — without a lot of detail as to where the friend request is coming from.
In the Ningbar, we also have a panel that currently shows you your friends across networks as well as all the networks in which you are a member. We're going to be making a number of both short-term and long-term changes to this "Ningwide view" in the coming weeks and months. I'll also address these changes in this post.
Network Inbox
Here's a screenshot of the new Network Inbox: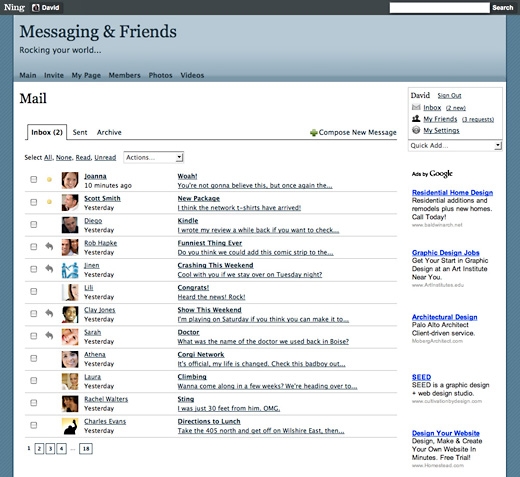 The Network Inbox will now be directly in the network and accessible from your Admin Box — the box that appears in the upper righthand corner of every page. Today the Inbox link opens the Ningbar. After this release, it will take you to this full page Inbox in your network.
Message Detail
Here is a screenshot of the multi-threaded message detail page: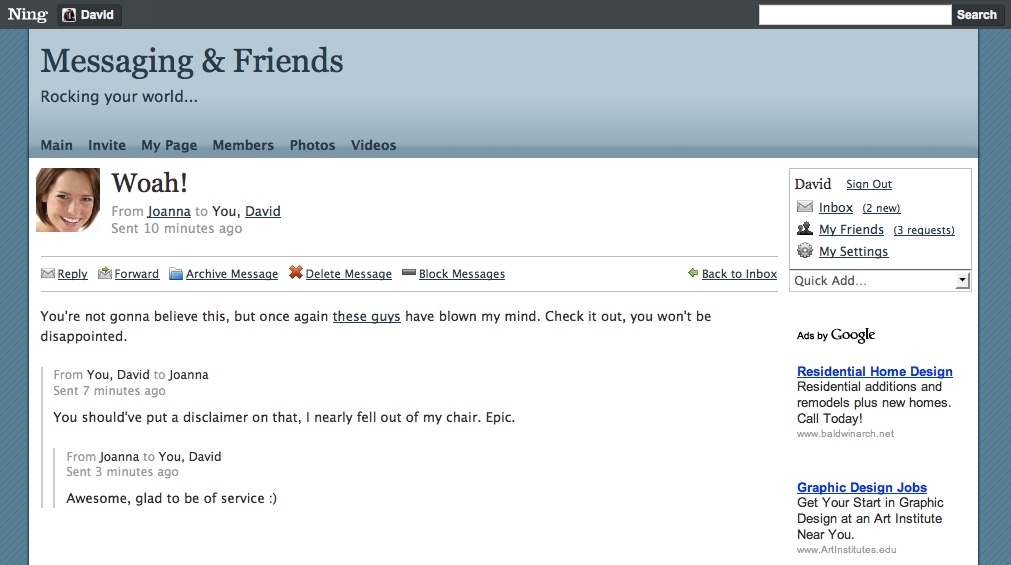 On the message detail page, you'll be able to see the threaded discussion 25-levels in, and it will now be viewable as a full page as opposed to a microscopic panel. I, for one, am super excited for this change. We will continue to provide detailed previews of new messages in email notifications which will take you to this page to view the entire thread.
Compose
Here is a screenshot of the compose page: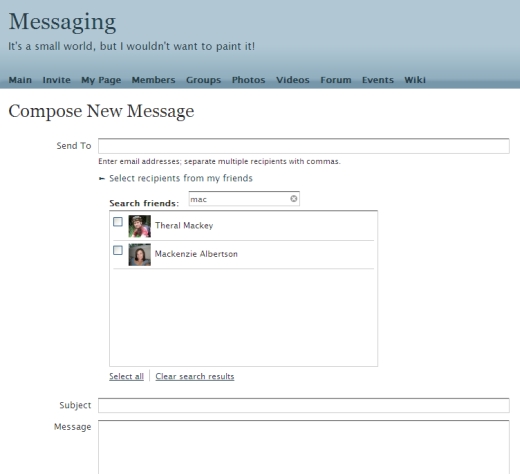 The compose message page will have the option to search your friends on your network to add to the message and is otherwise a pretty straightforward compose page.
Friend Requests
Here's the new friend request page: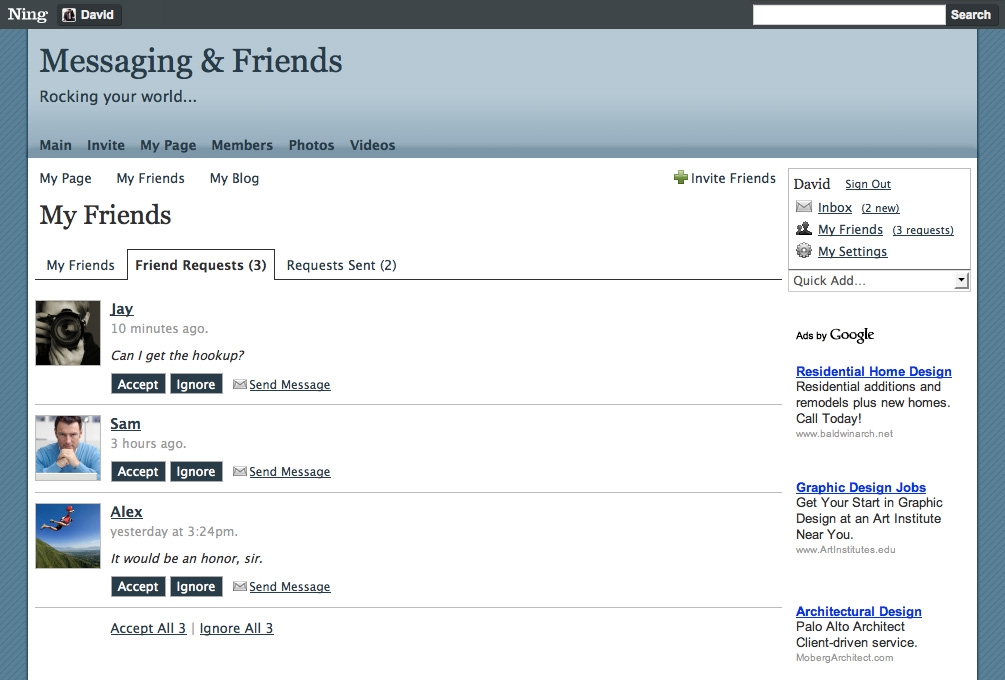 The new friend request page will be accessible from your Admin Box (also known as the sign in/sign up box, which appears in the top right corner of your network), which like your Inbox, currently opens the Ningbar to your friend requests. After this change, it will open to a full page in your network directly and will show only friend requests that are specific to this network.
While you'll still be friends with your friends on this network on any network across Ning that you join, this new page will have a quick link to the person's profile on this network. You will also have the ability to send them a message before you make them a friend. This incorporates a ton of feedback we've heard from Network Creators since we launched, and we're excited to (finally!) put this in place.
Your Member Ningbar Panel
One other key change we're making to the Ningbar won't be visible until you click on your Member Ningbar tab — the tab in the Ningbar that currently displays your profile image and name.
Rather than open to a panel that shows your friends across networks and the networks you're using, we'll take you instead to your My Social Networks page on Ning.com. We will also be working to ensure that this list updates faster than the current lagtime.
UPDATE: We've made the decision to link the Member Ningbar tab to your network profile vs. the Ning.com My Social Networks page. As part of this release, we are also going to add a link to Ning.com from a member's My Settings page so that the Ning ID for authentication is clearly communicated. This link is not promotional, as it is account-related, and will not not be removed if you purchase the "Remove Ning Promotional Links" premium service. Here's the addition we're making to the Account page: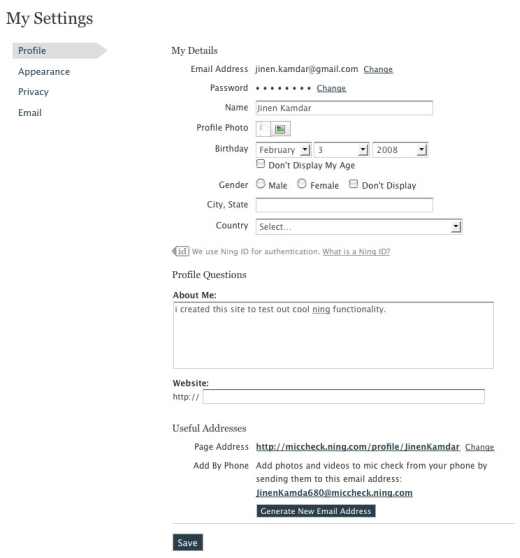 We'll still be back with a greatly improved way to manage your friends and networks across the Ning Platform in early winter. In the meantime, you'll be able to continue to manage your own networks from one view on Ning.com and, by mid-September, see all your friends across the Ning Platform from Ning.com.
New HTML Email Design
One last thing we'll launch in early September is a simplified HTML email invitation. Here's a sample: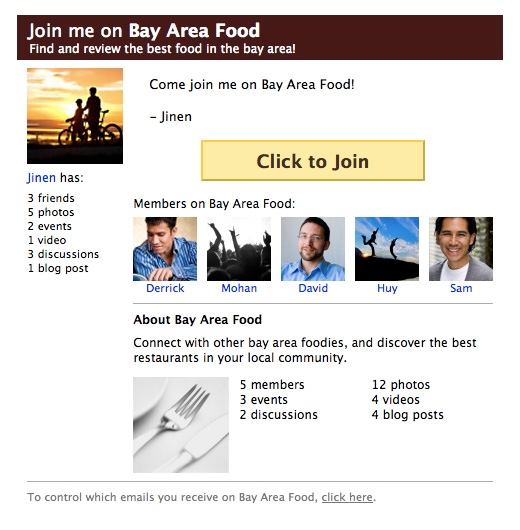 We want your feedback
We're previewing this early today in order to gather as much feedback as possible before we implement this change. We've created a discussion on Network Creators, but we want your opinion of these designs.
Let us know what you think!