A New Tab Manager Early Next Week
Updates
Your Ning Network
On Tuesday, September 2nd (or slightly thereafter depending on testing and QA), we'll be releasing a new Tab Manager for your network.
The Tab Manager will enable you to modify the majority of your network's navigation. You'll be able to add top-level tabs, sub-tabs, and new pages to your social network from a simple drag-and-drop interface.
Here's an example of how the navigation with top-level tabs and sub-tabs will look. Sub-tabs will appear when you hover over the top-level tabs, otherwise they will not be visible. Both the top-level tabs and each of the sub-tabs will be clickable: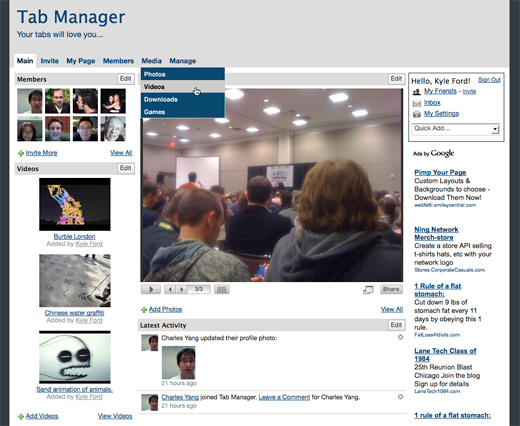 On your network's Manage page, you'll have a new icon for the Tab Manager:
Manage Page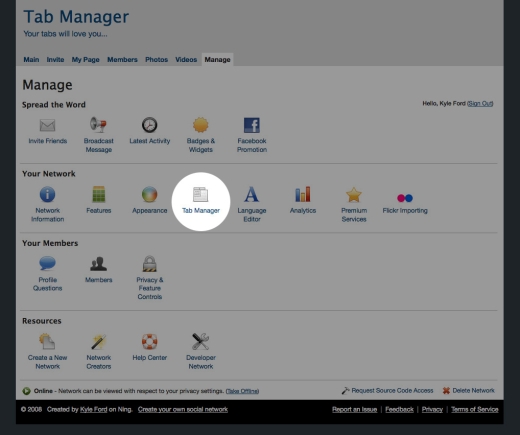 When you click on the Tab Manager icon, you'll be taken to the new Tab Manager detail page:
The Tab Manager
For any given tab, you'll have a set of controls, including the option to:
Rename the tab. There will be a 12 character limit on each tab in order to fit the maximum number of 13 top-level tabs comfortably in the navigation.
Set a target page (e.g., where the tab will take you). This can be a new page on your network or an existing URL. You'll also be able to choose whether you want to open the target page in a new window or just click through directly.
Make the tab visible to
1) everyone,
2) members only,
3) administrators only.
This will only effect who can see the tab and not who can see the target page.
In terms of managing your navigation and tabs overall:
There will be a limit of 13 top-level tabs. By default, your main navigation will only have top-level tabs.
The "Main", "My Page", "Invite", and "Manage" tabs will not be moveable, removable, nor will you be able to set their details other than change their names. This is so we can simplify the development work involved in delivering the Tab Manager between now and Tuesday.
In effect, this leaves 9 top-level tabs to do with what you like. You can rename, remove, or make a sub-tab any of your other feature tabs, such as photos, videos, events, chat, etc. You can also add new top-level tabs, linking to either a brand new page on your network or any URL anywhere on your network or the Internet.
You will be able to add as many sub-tabs as you'd like, including sub-tabs under "Main", "My Page", "Invite" and "Manage".
As we mention above, each tab will have a 12 character limit. This is so 13 top-level tabs will fit across the vast majority of themes and styles we offer and so sub-tabs don't become unwieldy.
For the tabs that are movable, you can re-order them by dragging-and-dropping them into place.
The sub-tabs will automatically inherit the font style of the top-level tabs that you control from the Appearance page. You will also be able to set the sub-tab background color, hover color, and text colors. This will be consistent across all sub-tabs.
If you have the maximum 13 top-level tabs and add a new feature into your network, the new tab will not show up in your top-level navigation. It will remain here on the Tab Manager until you make it a sub-tab or remove another top-level tab to add the new feature tab to your top-level navigation.
Create New Pages
From this new Tab Manager, when you create or modify a tab, you'll be able to either set a URL or create a new target page directly on your network. In these new pages on your network, HTML, Javascript, RSS, and iFrames will be supported. In the future, we'll look to add templates and other ways to make them easier to customize, but for the first version we're keeping it simple, which means you'll have to know how to do a bit of HTML to make it work. Here's what it looks like:
Edit New Page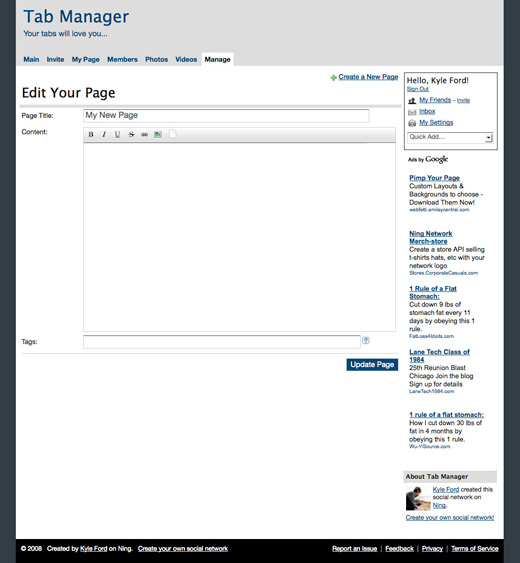 We're knee-deep in development on these features right now. As a result, we're targeting Tuesday, September 2nd for this release, although that date is subject to change as we do testing and QA. Please let us know what you think or questions you have on either the new Tab Manager or Pages.
Thanks!