A world of infinite solutions at HighEdWeb
Ning Network Spotlight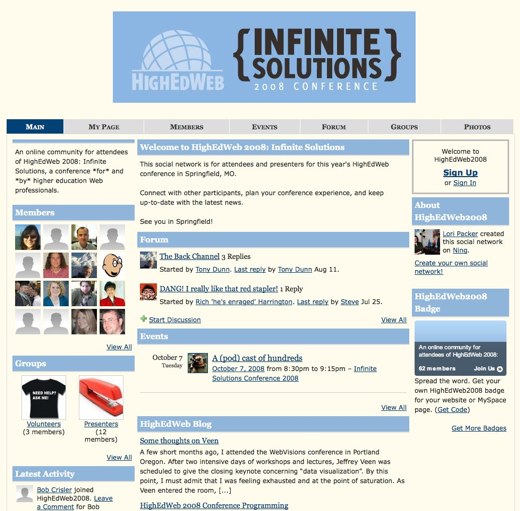 HighEdWeb presents Infinite Solutions, a conference for higher education Web professionals to explore the "unique Web issues facing colleges and universities," now in it's ninth year. The HighEdWeb network is a place for attendees of the Infinite Solutions conference to connect and discuss the upcoming conference, get news, and plan.
Preparing for conferences is no easy task, but HighEdWeb is making it easy for their participants and attendees to get organized and keep informed.  Their groups for volunteers and presenters give participants an easy way to stay in the know, and keep in touch with each other pre-conference.  Network Creator Lori Packer calls attention to important dates such as early-bird registration on the blog, located on the main page.  Their blog not only doles out logistical information, but also displays posts regarding the merits of conference presenters like Jeffrey Veen.
Other conference managers, participants, and attendees can take example from HighEdWeb's network for Infinite Solutions.  Creating a place for those interested to gather before, and after, the conference is a great way to get your event out into the world to create buzz months beforehand, and keep the excitement going even after the event.
Whether heading over to the conference, looking for more information, or finding tips on how to make your event more virile, HighEdWeb is a worthwhile network for anyone to check out.
P.S.  If you're planning on attending Infinite Solutions, be on the lookout for Ning's very own Kyle Ford, who will be speaking in the General Sessions!