After Hours with the IT Club
Ning Network Spotlight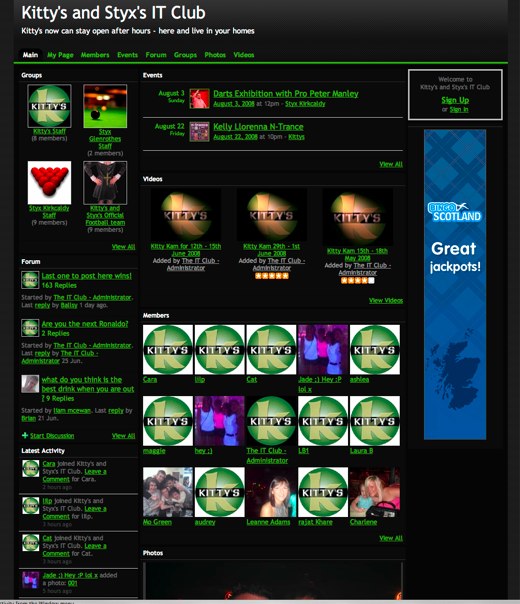 Scotland is known for its beautiful coast, its rolling green fields and its wild nightlife. The last of these qualities is featured at Kitty's and Styx's IT Club, where members celebrate two of the craziest clubs this side of Edinburgh.
More than 3,000 photos and "Kitty Kam" vids like this one show just how wild Kitty's can get. With drink specials on multiple nights (Thursday is student night! Woo!), the nightclub is packed more often than not. As for Styx, a darts exhibition featuring PDC pro Peter Manley is scheduled for August 3.
Age-old questions are mulled over in the forum, like "What do you think is the best drink when you are out?" Mixed vodka drinks have a strong following, but others swear by a pint of Carling. And to prove that life does exist outside the nightclub, the athletes who comprise Kitty's and Styx's Official Football Team have made their own group.
With more than 1,200 faithful frequenters of Kitty's and Styx registered as members, this network is active even in the wee hours of the night. At the IT Club, there is no such thing as last call!