Are You a Jonas Brothers Fan?
Ning Network Spotlight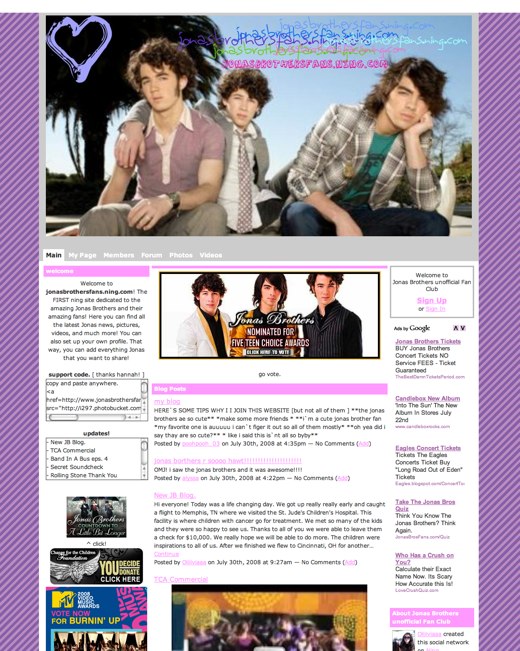 One, two, three of them?! That's right; there are three Jonas Brothers. The brothers, famous for their appearances on many Disney specials as well as the Disney Channel original movie, Camp Rock, are now the subject of rockin social network built by, and for, their fans.
The forum is a great place for fans to collect and chat about the brothers, or as they're often called here — the JB. Members come together here to talk about upcoming concerts, and, more important, which Jonas Brother is their favorite.
If you aren't familiar with their work, the main page, gives you some great video snippets of the things they've done. You can see their appearance on the 2008 Disney Channel games, as well as some behind the scenes looks at their performances. There is also a great section on the left hand side of the page with a discography of the Jonas Brothers all for sale.  This is a perfect place for musicians to promote their work.
The coolest part of the network is also on the main page. The right column of the network is filled with ways to connect to the JB. From the fan club there is a feed of news about the brothers. Those that are interested in their music can see a scrolling list of upcoming concerts and purchase tickets right from the network!  There are also many links connecting fans to other bands they might be interested in as well as a slew of other official JB sites.
So if you've never been graced by the catchy melodies, start browsing.  The Jonas Brothers unofficial Fan Club is a perfect place to get to know these three happenin' guys, and see why the JB is taking the world by storm.