Are You Game?
Ning Network Spotlight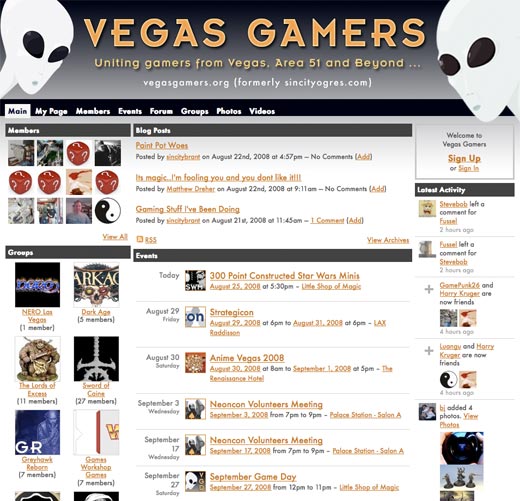 "Gaming" in Nevada has usually referred to varietals of poker, blackjack, slot machines, craps and all-you-can-eat buffets.  However, Vegas Gamers is actually a place uniting Las Vegas-area fans of role-playing games, collecting cards, board and video games (think Dungeons and Dragons and Magic: The Gathering).
Die-hard gamers make it a point to attend a slew of events and face-offs like October Game Day and this years much anticipated NeonCon 2008.  The network's 170 members also connect with like-minded enthusiasts and learn about new games by checking out an array of groups.
Members post pictures of their latest conquests, such as Doug Daulton's "wicked" game of WiCoU, Shane at NeonCon2007 and Jeremy grabbing a shot of his gaming buddies Liam and Oberon.  Vegas Gamers also write blogs on their profiles detailing what they've been up to in the gaming world.  Sincitybrant gives readers a glimpse of his awesomely awesome gaming room.  On the flip, Miragel writes about her excitement for a blog feature on the network.
As the saying goes, what happens in Vegas, stays in Vegas. Er, on Vegas Gamers that is.